Frank & Brian in Arizona for Spring Training: Think… Not, Work… Not.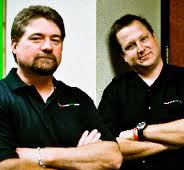 Look, I like Frank and Brian of Think Big/Work Small… I really do.  A lot.  In fact, I would say that we're friends.
But, seriously guys… after reporting the facts on today's video story, which include that banks are running the other way from mortgage lending, and that the federal government is something of an uncertain mess related to mortgage lending, you're concluding in this video that "we might make it through," and, "we're gonna' find ourselves in a recovery," because… drum roll please…
"… something's gotta' give?"
You guys and your technical talk.  Click "PLAY" and see what I'm referring to before reading on…
Now, I like attending Spring Training in Arizona as much as anyone… probably more than most.  But, after touching on the exodus from mortgage lending by the largest commercial lenders… a house in Gary, Indiana actually BLOWING UP while being shown by a Realtor (although reportedly, not for any nefarious reason… just an explosive coincidence), the federal government's uncertain future as related to interest rates and the bond market, and a home in Arizona that you claim will sell for $290,000, but that can be "lived in for a couple hundred bucks a month"… assuming, of course, that you can find a "granny" willing to pay a grand a month to rent the anything-but-grand, "granny flat," and someone looking to euthanize a harras of horses by boarding them in the middle of the Senoran Desert for $500 a month… after all of that, you found a way to conclude that we may have hit bottom in the housing market?
And the thinking behind your conclusion is that Fortune magazine ran someone's press release and all in you figured that, "… something's gotta' give?"  I mean, fellas… I like Spring Training… and I like the beer they serve at Spring Training too, but… seriously?
And what was that about the inventory of homes being at normal levels?  Hysterical.  Or, the absolutely precious comparison of the number of homes sold in 2011 with the number sold in 2010?  I'm not going to say anything more about those "stats" because… well, because we're friends, that's why.  In fact, I wasn't going to say anything about the whole video, except that I became afraid that if no one did, it might lead you guys to believe that no one like me is paying attention and Lord only knows what could happen from there.
See, here's the thing… the "granny flat" for a grand… well, not so much.
I checked on Trulia… for about three minutes… and for an asking price of $41,500, Granny could have bought the 1829 square foot home with a pool, which is located at 8224 West Flower Street, Phoenix AZ 85033 described below.  Apparently, it's sold… but just as an example…
"Great 3 bedroom, 2 bathroom home in Phoenix features a pool with a large, near 8,000 square foot lot size. This Great 3 bedroom, 2 bathroom home also has a full bath master bedroom, guest bedrooms, fireplace and a large covered patio round out this nice home."
Or, throw caution to the wind and go for this one at $46,500 located at 7555 West College Drive, Phoenix… I'm told it's also been sold, but the pool is just gorgeous, by the way…
This is a fantastic 4 bedroom 2 bathroom home in Phoenix. This 4 bedroom 2 bathroom home features include; master bedroom with french doors, gated pool in the backyard, patio, and very spacious floor plan.
But, I realize that in your $290,000 example, you were talking 5 ACRES.  So, how about this one with 9 ACRES for only $57,000, which is located at 2933 West Palmaire Avenue, Phoenix.  It's got central air and heat and looks pretty darn nice from the photos.  My best guess puts the monthly payment at something like $335/month, so with the $665 Granny has left over, she could buy and board her own horse.
Even though it says "Most recent information provided by epropertysites.com on 03/20/2012 03:37 AM:" I've been informed that this property is also long-since sold, but still… I'm just saying…


Price: $57,000
Status: For Sale
MLS/Source ID: 4630950
4 Bedrooms
2 Bathrooms
2,038 sqft
Single-Family Home
Built In 1971
Lot Size: 9.0 acres
Pool
Now, I'm not trying to say that it's in any way comparable to the one you focused on… yours is probably at least $233,000 nicer (even if it is 4 ACRES smaller), and of course Granny would have to live somewhere else if she wanted to smell horses living outside her door in 120 degree heat.  And besides, well… heck… it's sure as shootin' that I'm no real estate expert and the only thing I know about a mortgage is how to get one without reading it.
And if you really wanted to go all out, you could have taken the leap to $145,000 and had 10 ACRES and a POOL… in a nice neighborhood to boot, at 3149 McRae Way in North Phoenix… and yes, I'm told this one is also sold, but just as a starting place…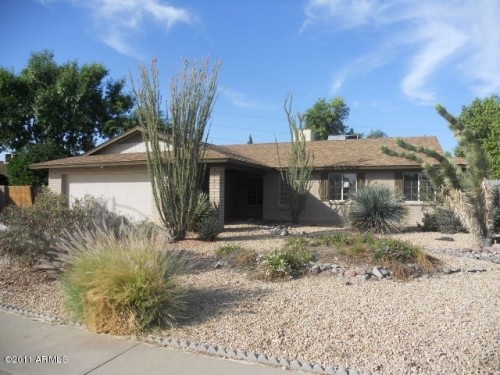 Price: $145,000
Status: For Sale
MLS/Source ID: 4597515
3 Bedrooms
2 Bathrooms
1,842 sqft
Single-Family Home
Built In 1979
Lot Size: 10.0 acres

"Gorgeous home in North Phoenix, Country Ridge.  This 3 bedroom, 2 bathroom beauty features slate tile in the living areas and kitchen, granite counter tops, river rock fireplace in the living room, and tiled bathrooms. Back yard is perfect for entertaining. Covered paver patio, elevated patio in yard, pool and lush landscaping. Centrally located. This Phoenix home is located in the Deer Valley Unified School District with neighboring schools such as Desert Valley Elementary and Jr High and Deer Valley High School. Must see. Call Corinne Hale for more info at 480-420-REAL."
And this one, last year anyway… was a bit of a slow mover… you know, like yams on Thanksgiving…
"Added on Trulia: 180+ days ago"
Call me crazy, but I'm thinking… should you be interested… you could have probably thrown in an offer at least a smidge  under the asking price of $147k.  I don't think you'd be at too much risk of insulting the owner.
And, lest you think you need to find distressed properties in this category, go up to an asking price of $207,000 and you might have had this beauty… not a short sale, just a regular listing… on 8 ACRES, and again with a POOL… and it even has a "mother-in-law" deal with separate entry, so she won't bother the rest of the house when she comes in late after a night on the town.  It's also no longer on the market, apparently Trulia isn't the best place to go house hunting, but I'm guessing there are more where this one came from, wouldn't you think?.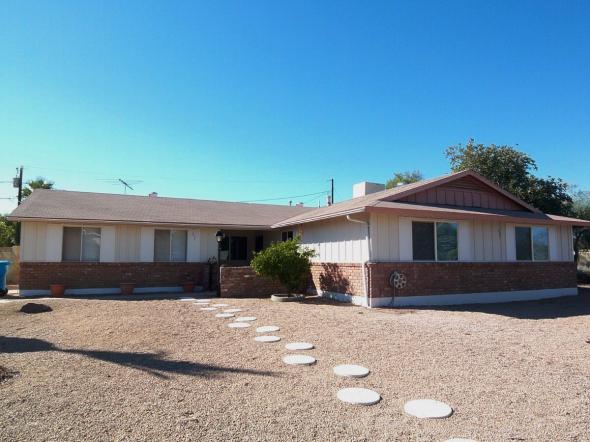 Price: $207,000
Status: For Sale
MLS/Source ID: 4492330
4 Bedrooms
3 Bathrooms
2,121 sqft
Single-Family Home
Built In 1963
Lot Size: 8.0 acres
Pool (very nice)

PRIDE OF OWNERSHIP NEIGHBORHOOD-HIDDEN IN DEAD END Cul-de-sac. Mother-N-Laws area with separate entry/exit and bathroom. Extra large CORNER LOT adjacent to wash and public walking-jogging trail with access to the MOUNTAIN PRESERVES. SPLIT GUEST QUARTERS FROM OTHER BEDROOMS-TILED FLOORS- Great CURB APPEAL WITH REDBRICK VENEER COURTYARD ENTRANCE. FORMAL LIVING ROOM-FAMILY ROOM. Beautiful FIREPLACE. Beautiful Pool and block fencing. Existing tenant on month-to-month lease. NOT a SHORT SALE or Lender/Bank Owned property. 
So… as far as being at "the bottom," as Fortune magazine would have us believe, let's see… the home in your video had a loan of $733,000… and you think it's going to sell for $290,000.  If it does sell for $290,000, then the next time it's in foreclosure, which I'd guess would be by 2014 at the latest, it'll pop back up on the market around… hmm… let's see… carry the three, minus 14… at around, what do you figure… $149,900?  No?  Okay, what about $169,900?  $199,000… $229,000… maybe?
Who knows… trying to pick the bottom has long since proven itself to be a fool's errand anyway, right?  It certainly should have by now.  My advice would be to try buying on the way up.  Missing the bottom by a few bucks as prices rise by maybe four percent a year can't hurt all that much, but finding out that the bottom isn't actually $290,000, but instead is actually $90,000… why that just makes you part of the next wave of foreclosures, and Dudes… we all know how much fun that can be. 
However, all of that being said, here's a marketing idea… why not find whoever wrote the article in Fortune and see if he or she is interested in making an offer on the $290k pad with the potential for hot horsey home rental income?  Let me know and I'll take down this post immediately.  It'll be fun to watch…
look… I hate being a porcupine in a balloon factory, so I'm not trying to take anything away from the current numbers that are certainly better than they've been in the recent past.  In fact, I'm an optimist by nature, so I hate being the one that comes off otherwise.
Now, that doesn't mean that people shouldn't buy homes in the valley, but the structural problems we face haven't changed, so I see no possibility that we aren't going to see some continued weakening in the housing market both in the Phoenix area and throughout the country.
However, nothing goes down in a straight line.  
For example, the Dow nearly doubled between March of 1935 to March of 1937 as the economy appeared to be back on track, but it gave up those gains the following year in a sharp, violent slide as a new recession pushed unemployment back near 20%.  From there the DOW puttered along for the rest of the 1930s, never coming close to recapturing its March 1937 high.
Since our economy went off a cliff in 2007 we've had several periods during which "experts" have proclaimed that the worst is behind us… none has been anywhere close to correct… many have a vested interest in what they're reporting.  I understand that optimism is a hard thing of which to let go, but the result of such blind optimism is that we continue to fail to deal with the structural problems that will continue to drag us back from any real recovery until we do.
Lending in this country is, in a phrase, a complete train wreck.  To begin with, the federal government has taken over huge swaths of consumer lending, most notably the $10 trillion home mortgage market.  The government's share of new loans now approaches 100%.  Today, the three fastest growing government insurance programs are the FHA, the USDA's single-family guarantee program, and Ginnie Mae.  FHA is flat out bankrupt and after the election will be making headlines as the next giant bailout.  Over the last few years it's become the new sub-sub-prime.  It's leveraged at a little under an eye-popping 1,000 to one, which dwarfs Fannie's previous record of 174 to one… and we know how well that's working out.
The US Department of Agriculture's (USDA) single-family guarantee program is the poster child for underpricing risk. A borrower with a FICO score of 620 (a score in the twentieth percentile) is able to get a zero down payment loan of say $150,000. The all-in cost of the USDA loan is at least $12,000 below what Freddie Mac would require for the same borrower paying five percent down.  What's going to happen here shouldn't be much of a mystery.
We haven't had a private securitization of mortgage debt since 2007, and we won't have for a long time… certainly not until we correct the inadequacies of the system that created our current economic catastrophe.  That means a market dependent on the government for essentially all lending, and that's just not good.  The credit markets remain broken and we won't see a real rebound until they have been substantively repaired.
Demand for residential real estate is simply going to be much lower than at any time in the past… more than half of Arizona is still underwater and therefore unable to move.  First time buyers are delaying family formation and therefore purchases of homes.  The unemployment picture is little more than pre-election propaganda.  And foreclosures were simply suppressed last year as banks awaited the settlement with the state AGs… they're headed higher as we speak.
That makes some comparisons between 2010 and 2011 appear favorable, but it is a meaningless illusion… similar to the illusion of a housing rebound in 2009-10 when we saw the impact of tax incentives and the Fed buying trillions in mortgage-backed securities.
Add to those factors the demographics of our aging baby-boomers, 78 million of us who will de facto be moving less and downsizing as we age… and the certainty of a European default at some point in the next couple of years, and it's just not anywhere near as pretty a picture as we're going to have painted for us during the election year that's ahead.
And all of our lackluster data is occurring in an environment of record low interest rates.  What do you suppose will happen to the housing market as those rates rise?  Defaults will unquestionably spike once again, and credit will tighten even further.  Prices simply have to fall farther before demand will increase enough to stabilize prices, let alone support any real broad based appreciation.
But again… nothing goes down in a straight line, so there will be moments where things will feel like the worst is behind us… followed by times where it will feel like it's not.
example of a home that had a $733k mortgage that will now sell from a listing price of $290k is just goofy.  What it was, in terms of its price in the past, is entirely irrelevant.  Real estate prices are not set based on their past price, no more than stock prices are priced that way.  And as to whether $290k is some sort of bottom is, as I said, a fool's errand.  Some may choose to believe that it is a bottom, and they're certainly entitled to their view, but it's not a sound methodology for making buying decisions in today's economy.
And did you see the "granny flat" that came along with that house Frank and Brian were showing?  The one they claim will rent for a grand a month?  I have a friend who recently rented a home in Glendale that's about 2500 square feet… has a lagoon pool, a 6-hole putting course in the back yard, a wonderful kitchen, incredible patio, cathedral ceilings, etc. etc. It's renting for $1350/month.  If that Frank and Brian's "granny flat" rents for a grand I will make you a watch out of wood.  And as far as finding 5 horses to bring in $500/month… well, don't even get me started.
For $290,000 there's a whole lot you can buy in Maricopa County and five undeveloped acres is not unheard of the the Sonoran desert.  I'm not saying it's a bad deal either… it could certainly be "perfect" for someone.  But as far as the guys' claim that someone is going to be living there for "a couple hundred bucks a month," based on a sales price of $290k… well… would anyone want to bet on that outcome?  Because I'll take as much of that action as I can find… and I'll be betting against.
I will admit that I do get frustrated with the baseless cheer leading of the NAR and Arizona Mortgage Lenders Association because blowing sunshine up our skirts is preventing us from dealing with the very real structural problems we are most assuredly still facing today… as we were four years ago.  To-date we continue to largely run-in-place, economically speaking, and we wouldn't be were we to stop considering "hope" to be a strategy for future growth.  Hope is nice feeling, I do agree, but it's a poor substitute for a growth or recovery strategy considering today's economic realities.
Watching Arizona State Senator Reagan's mortgage reform bill get drop-kicked by the banking lobby was to be expected, but seeing lackluster public support for such a proposal was truly stunning.  You may not think the proposal was perfect, but to disregard it out of hand, without testimony or debate in the legislature is beyond irresponsible and seals the state's fate as far as the potential for breakthrough change is concerned.  I don't think there's any question that continuing the status quo in Arizona can only lead to a long hard slog, to expect anything else simply can't be supported by facts… unless you're okay with Frank and Brian's "something's gotta' give" path to prosperity… and I'm just not.
Still friends though, right?  Go Giants?
Mandelman out.