Linda M. Tirelli, Esq.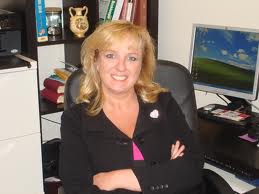 Linda M. Tirelli, Esq.
Garvey Tirelli & Cushner, Ltd.
50 Main Street, Suite 390
White Plains, NY 10606
Email: westchesterlegal@aol.com
Ph. 914-524-9400
Like so many of my "trusted attorneys," I met Linda Tirelli at Max Gardner's Boot Camp.  She's very attractive, outgoing and social, and although I've never seen her in a courtroom, I'm quite sure she's capable of tearing into the opposing counsel with great aplomb.
She is also very, very smart. ¬†I've seen her in real life situations and you can just tell… she may go out to dinner with the group at night, but she pays attention in class. ¬†And she may just decide to order dinner in and get ahead of the rest of the class by studying while others stay up too late drinking beer.
And maybe it's partially because I've been living on the West Coast too long, but to me Linda is also the consummate New Yorker. ¬†She's fast… like she gives me the impression that in court, she could cut through whatever the obfuscation or entanglement in no time and then go straight for the heart of the matter. ¬†It has to be a one of the key reasons she's known for her success and I'm sure she left courtrooms with more than a few judges quietly impressed in her day.
I also don't imagine that she's one to give up easily or ever, and it's clear to me that when she represents a client, she does so passionately and relentlessly.  If you're at risk of foreclosure in New York, or you otherwise feel dwarfed by the sheer size, strength and resources of a major financial institution, and you wanted my opinion as to who you should call, I'd reach for my iPhone and start scrolling down for 'T' without hesitation.
I don't care who is on the other side, I'm sure that Linda's presence in a case can level any playing field… because I get the distinct feeling that she never bought into the whole "too big to fail" thing.
I can just hear her respond… "No , they're not."
I don't want to give anyone the impression that they should be afraid to call her or anything like that.  She's on your side, remember, and to those she likes, she's truly as sweet and compassionate as anyone you've ever met.
I'm proud to be able to say she's a friend, and that she and her partners in the firm  are my trusted attorneys in New York and Connecticut.