Some of Lynn Szymoniak's Millions May Belong to Someone Else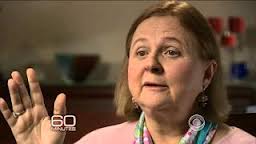 It was April 3, 2011, when just about everyone interested in the foreclosure crisis tuned on 60 Minutes to watch Florida attorney, Lynn Szymoniak, tell the nation about the massive fraud she claimed to have uncovered.
60 Minutes described Szymoniak as: "A lawyer and fraud investigator with a specialty in forged documents."  "She has trained FBI agents," the show's host said.  "She used her legal training to go online and research 10,000 mortgages."
Szymoniak explained: "When I looked at the assignment of my mortgage, and this is the assignment… even the date they put in, which was 10/17/08, was several months after they sued me for foreclosure. So, what they were saying to the court was, 'We sued her in July of 2008 and we acquired this mortgage in October of 2008.'  It made absolutely no sense."
The infamous Linda Green had signed Szymoniak's mortgage documents as a bank Vice President and Szymoniak subsequently discovered that the name Linda Green was being signed as a vice president of 20 banks all virtually at the same time.
"I often, because of my training, look for patterns.  And then I began to find the strange signatures," she explained on 60 Minutes.  "It was a common practice in the last few years to flood the courts with these documents."
Szymoniak went on to explain that banks outsourced the job of generating foreclosure paperwork to Lender Processing Services ("LPS"), who in turn had its subsidiary, "DocX," do much of the actual work.
About a year later, 60 Minutes on March 14, 2012, reported that Lynn Szymoniak had been awarded $18 million as a result of being the first in South Carolina to file a Qui Tam lawsuit under the whistleblower provision of the False Claims Act.
The False Claims Act allows the government to bring civil actions against entities that knowingly use, or cause the use of, false documents to obtain money from the government or to conceal an obligation to pay money to the government.
The whistleblower provision entitles a private person to bring a lawsuit on behalf of the United States, where the private person has information that a defendant knowingly violated the False Claims Act.  And as an incentive for whistleblowers coming forward when someone has defrauded the government, whistleblowers can net up to 25 percent of the total settlement from a False Claims suit.
The government joined Szymoniak's complaint, and when the four largest banks settled with the federal government for $95 million, Szymoniak became one of the four whistleblowers who would share in that multi-million dollar award.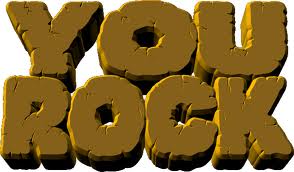 Literally, and quite understandably, overnight… Lynn Szymoniak became a hero to millions of American homeowners who had been living the nightmare of being at risk of foreclosure.  And a few months later, that 60 Minutes segment, "The Next Housing Shock," won the most prestigious award in business journalism, a Loeb Award, for explanatory reporting.
Congratulatory wishes and heartfelt thanks went up all over the Internet, as Lynn was showered with praise for what she had achieved, not just for herself, but presumably for millions of Americans.  And in her countless interviews, she seemed to say all the right things.
From Szymoniak's interview that appeared on Huffington Post on March 20, 2012…
"It's very satisfying to have recovered this money for the government," Szymoniak said. "Would it have been more satisfying to have recovered it for homeowners?  Possibly."
She told HuffPo about her plans to use some of her newfound wealth to support various housing related charitable organizations…
Szymoniak is already planning which charities to shower with her newfound wealth. 

"That part is very exciting," Szymoniak said. "I'm very psyched about all that and have been visiting some of the agencies I want to help.  I can't wait for that to begin."
And she expressed the right amount of hesitation when explaining her decision to simply pay off her own condo that had been in foreclosure, as opposed to continuing her fight against Deutsche Bank…
Szymoniak is conflicted about actually ending her own mortgage problems. The easiest way out of her current foreclosure difficulties is to abandon the case against the banks that have been making her miserable for four years and simply pay off the loan. She keeps the house, but the banks she believes have been trying to rip her off will get paid in full, plus fees and penalties.

"I have a lot of qualms about it, but I'm a realist. If something changed in Palm Beach County courts, I'd be more than happy to change my position on that," Szymoniak said. 

"But probably the situation is such in Palm Beach County that I should settle this, and I would tell most homeowners to do the same thing.  Most homeowners are experiencing the same thing — they can have a handful of documents that are fraudulent, and it doesn't mean anything in foreclosure courts."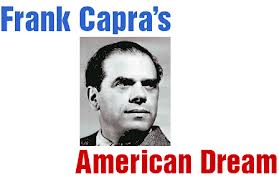 Without question, the Lynn Szymoniak Story became the happiest ending to a foreclosure tale ever imagined… the sort of story that Frank Capra would have brought to the silver screen during the 1930s… the everywoman triumphing over seemingly insurmountable odds… from rags to riches.
Like instead of "It's a Wonderful Life," perhaps: "Ms. Szymoniak Goes to Washington," or even, "Pocketful of Millions."

However, I'm now unsure what made Szymoniak's multi-million dollar dream come true…
Now, it appears that Lynn Szymoniak's millions may not have come her way… the right way.  It's a story whose details are at times so distasteful to consider, that it's likely to make some people unable to do anything but turn away and wish it gone.
But it's not a story that's going away… rather it's one that's going to court.
It's the subject of a complaint filed March 4th this year in Broward County, Florida.  The defendant is Lynn Szymoniak.
The suit alleges that Szymoniak, and other lawyers with whom she worked, committed legal malpractice, breach of fiduciary duty, unjust enrichment, and fraud…. against a fellow homeowner at risk of foreclosure.
The plaintiff in the suit alleges that in 2010, over a period of roughly six months, Lynn Szymoniak was his attorney, and that she led him to believe that she would be filing a "Qui Tam," or False Claims action in which HE was to be the "RELATOR," and SHE, his legal counsel.  
Had that been what occurred, the $18 million award would have gone to the plaintiff… and not to Ms. Szymoniak… but instead the Qui Tam lawsuit that was filed named Lynn Szymoniak as the "RELATOR," and so Lynn and her lawyers divided up the multi-million award without ever mentioning anyone else being involved.
Over those months in 2010, the plaintiff in this suit, Ignacio Damian Figueroa, alleges that he was providing Szymoniak with volumes of information related to the fraudulent practices being used in countless foreclosures across the country, including what became known as "robo-signing," by LPS.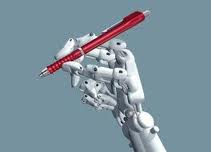 Qui Tam lawsuits are always filed "under seal," so for a couple years Mr. Figueroa didn't even know what had transpired.  Then the news that Ms. Szymoniak's would be getting $18 million became public.  And, on or about August 2nd this year, the government unsealed Lynn's case and thus for the first time allowed Mr. Figueroa to see exactly what Szymoniak had done.
Hundreds of emails tell the story…
My first reaction to hearing all of this was to ask whether the case was a, "he-said-she-said" sort of thing, realizing that many would like to be able to make such a claim against someone who had recently won $18 million.
I discovered, however, that it was not about what anyone SAID… rather, it's a case whose allegations are supported by hundreds of emails between Figueroa and Szymoniak, among other documents, and therefore much of what Figueroa alleges simply cannot be dismissed.
I've now spent dozens of hours reading the hundreds of relevant pages filed with the court related to this matter.  I've consulted not only with with Mr. Figueroa's lawyers, but also will several highly experienced and prominent attorneys unrelated to the case.
And I can say that, in my opinion, regardless of the outcome… AT BEST… Lynn Szymoniak handled the situation very, very poorly.  And, AT WORST… her behavior was deceitful to the point of being unconscionable, and a total abdication of her responsibilities as a lawyer.  She should be ordered to make it right, and there will be some who will no doubt say she should be disbarred.
And now the story found inside Figueroa v. Szymoniak…
According to the original complaint filed with the court on March 4th, and the Motion for Leave to Amend Complaint, which seeks to add a demand for punitive damages and upon which the court has yet to rule, it all began on February 5, 2010, when Lynn Szymoniak contacted plaintiff in reference to a series of videos he had posted on YouTube, which explained in some detail, the fraudulent practices that had become ubiquitous in foreclosure proceedings.
Ms. Szymoniak contacted Mr. Figueroa to say that she thought his videos to be "excellent work."  And she wanted to meet with him to talk further about the subject matter.  The two met for the first time four days later on February 9th, at a "Foreclosure Happy Hour."
According to Figueroa, during that first meeting the two discussed the content in the series of YouTube videos he had recently posted, and the potential for filing of a class action lawsuit against the infamous foreclosure mill attorney, David Stern.  Ms. Szymoniak stated that she had been considering filing a class action lawsuit on behalf of homeowners.
Mr. Figueroa says that he stressed to Ms. Szymoniak the appropriateness of a Qui Tam action because there had been significant damages that had accrued to the U.S. government.  Szymoniak liked the idea and stated that she was his attorney, and expressed her concern that he had already talked about the potential for such a case with others.
Later that evening, presumably once back at home, Szymoniak again expressed that she was "excited about being his lawyer," as seen in the email below, taken from Exhibit B of the complaint…
Email 1.0

About a week later, on February 16th at 10:20 PM… plaintiff sent Ms. Szymoniak an email, letting her know that someone else had approached him about filing a Qui Tam lawsuit.  The very next morning… and notably at 6:01 AM… Ms. Syzmoniak sent plaintiff a retainer agreement for his signature, formalizing her role as his attorney.
That same morning, and throughout that day and following day, the two exchanged numerous emails discussing the potential for a Qui Tam/False Claims Act case filing. In the email below, Szymoniak begins by telling Figueroa "the problem with the Qui Tam" lawsuits is that the "VICTIM" must be the government, and she says, "we both know that the real victims are the homeowners."
She also says: "Also, you must have information unknown to the general public to the 'Relator.' 
And she tells him that she "has one in the works," but she doesn't expect much to come of it as, "everything I know is already in the public domain as I have shared it with anyone who would listen."  (At this point, she says her attorney is Mark Cullen.)
She then says, "But, if you want to try this too, let me know and we will file together both knowing that this is a real long shot."
And she ends by saying that "It is a whole separate deal from the class action," which is the type of lawsuit they talked about when they first met.
As can be seen below, at one point Szymoniak asks Figueroa if he would want to file a false claims suit together WITH HER… and he replies, "If it makes it a much stronger case for us to file together, I am with you."
Email 2.0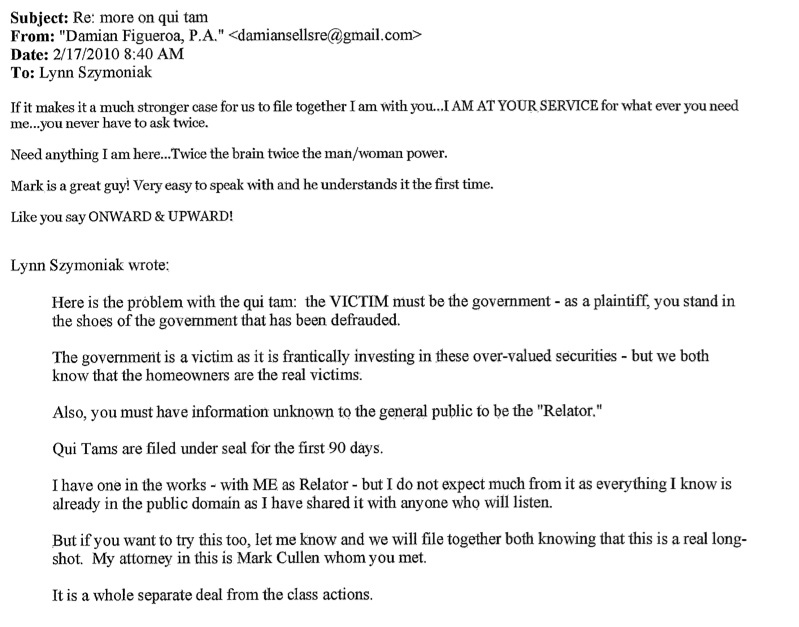 From this point forward, Mr. Figueroa believed that he was now represented by a lawyer whose plans were to file a class action, but now will file a Qui Tam/False Claims case "TOGETHER."
The two exchange literally hundreds of emails, with Figueroa sending Szymoniak an enormous amount of information about mortgage, foreclosure practices, and specifically document fraud, which became the basis for the Qui Tam suit later filed by Szymoniak alone.
In the email above, dated February 17, 2010, it seems pretty clear that Szymoniak is not really sold on the False Claims idea.  She sees "problems" including establishing the government as the "victim," and having "information unknown to the general public."  She also admits that she, "has one in the works, with ME as the Relator," but that she doesn't "expect much of it."
As the days go by, she will change her thinking about Qui Tams, and without any disclosure to Figueroa, and after taking all the information he brought in, she will file her own Qui Tam, again with her as Relator, and Mr. Figueroa nowhere to be found.
A PERFECT EXAMPLE:  Here is an email from Lynn the very next day, February 18th.
She writes to him about the "POSSIBLE QUI TAM," saying that she has "many articles (from Bloomberg, etc.) that say the government is busy buying $1.2 trillion in mortgage-backed securities…"
And then she adds: "but I need more specificity.  Would you see if you can find which securities — what funds — the government is buying?"
Last she says with implied sarcasm: "So much fun."
Figueroa replies without hesitation: "I will have info asap.  Yes this is fun for me."
Email 2.1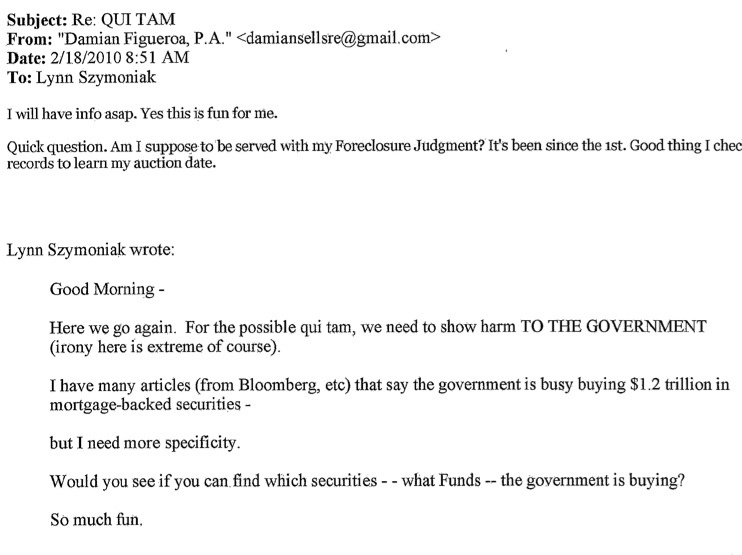 On April 4th, 2010… when he emailed to Szymoniak two lists of "authorized LPS signers,"  which he say is: "For us only."

Email 3.0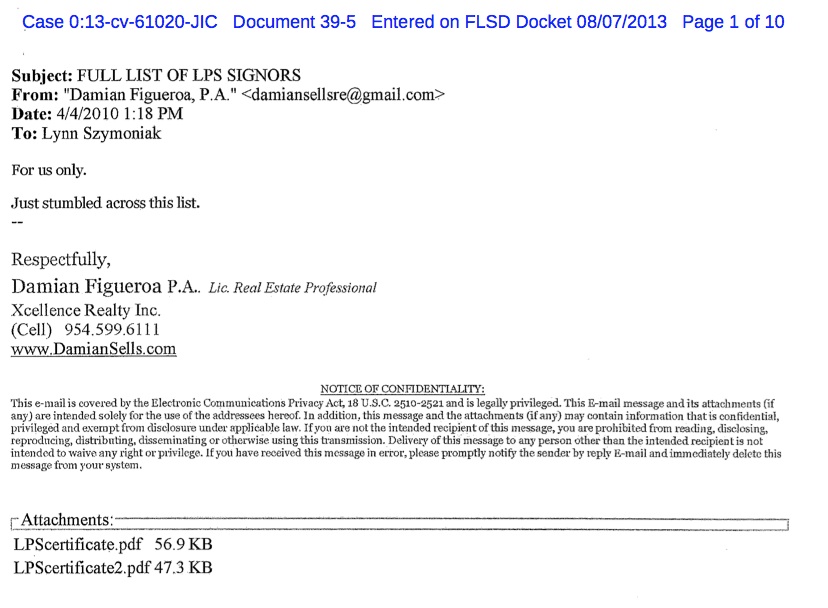 Email 3.1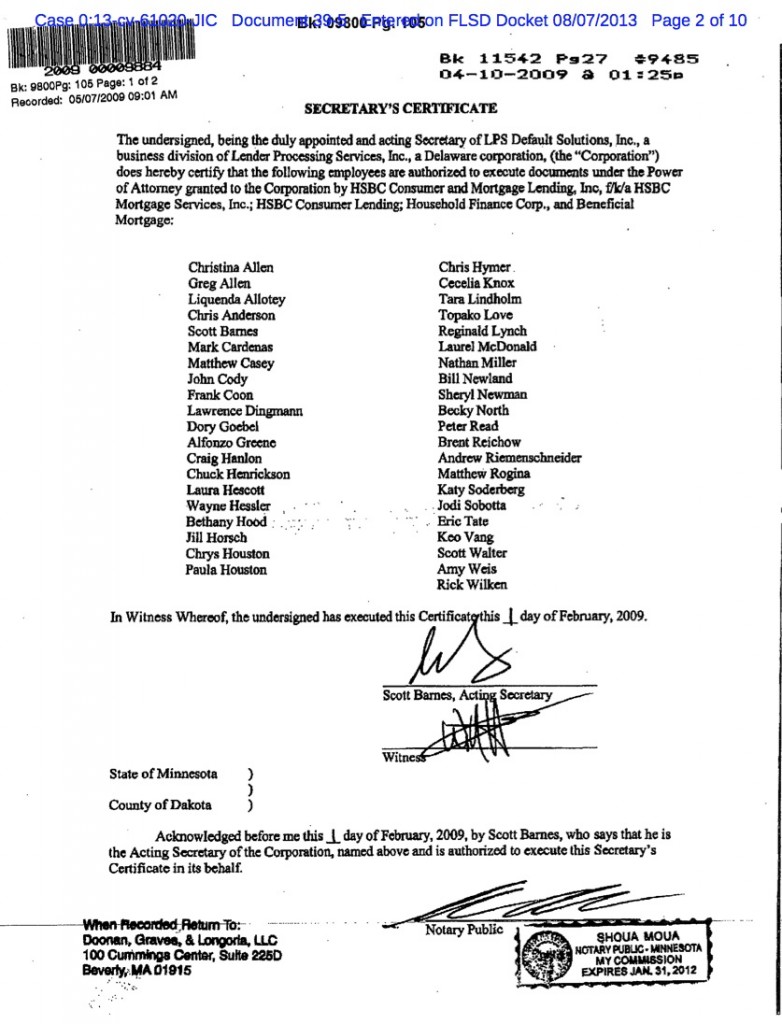 Szymoniak replies with an email that contains several paragraphs of what appears to be part of a False Claims Act filing, saying to him, "Look what I've been working on," and commenting that his "timing" for the sending of authorized LPS signers, "was perfect."
Email 4.0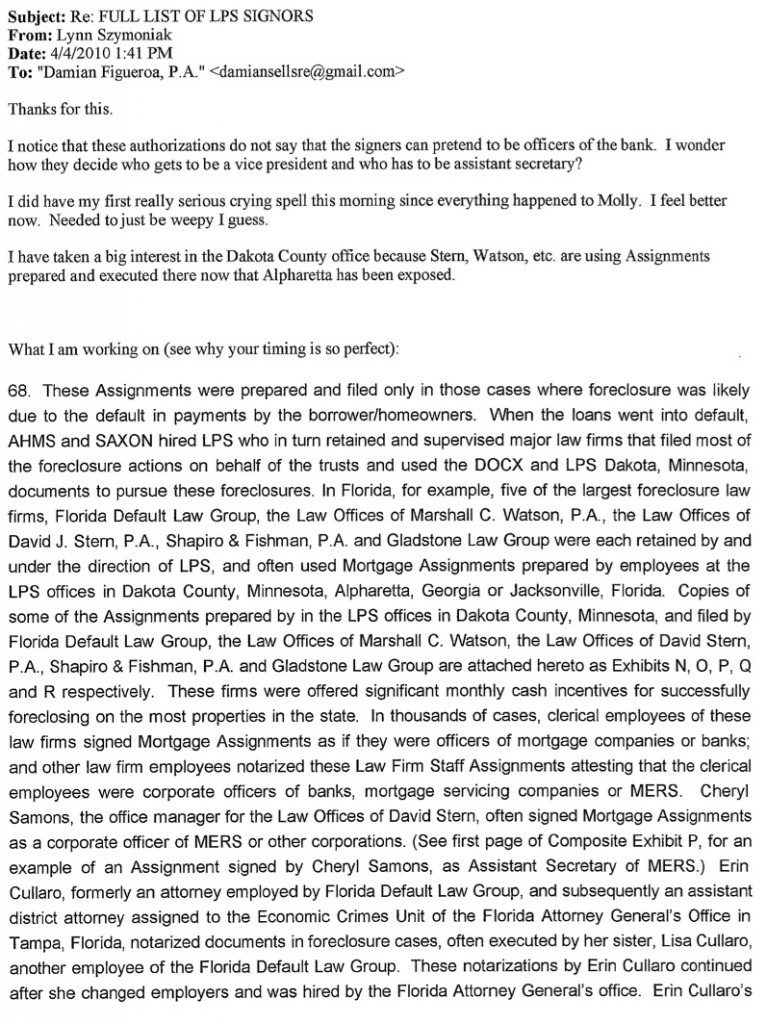 Perhaps you already see the potential problem here.
Lynn Szymoniak was, in her own words, "excited" to be representing Mr. Figueroa… she was his lawyer, there should be no question about that.  She emailed him her retainer agreement at 6:01 AM.  He clearly believed that she was going to file a class action or Qui Tam lawsuit with which he would be involved, and from which he would also benefit if successful.
Over many months, she continued to ask him to find and send her information about fraudulent foreclosure practices, and yet, she never disclosed any possibility that she would be filing her own suit… that is to say, filing a suit based on his information, but without his involvement.
If a layperson behaved in such a way, it would be consider underhanded, or perhaps lying by omission.  But there is no excuse for an attorney in an attorney-client relationship to behave as Szymoniak did over such a long period of time.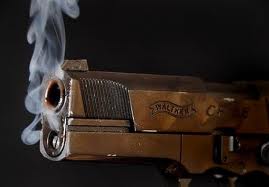 The smoking gun…  
ON JUNE 28th… Ms. Szymoniak emails plaintiff telling him that she has still NOT (emphasis hers) found anyone to file a Qui Tam/False Claims suit, and plaintiff assures Szymoniak that he has not told anyone about the idea of filing a False Claims suit because she had told him to keep it just between the two of them.
Email 5.0

ON THE EVENING OF JUNE 28th… Szymoniak emails Figueroa again, this time reassuring him by saying, "Just so you know, I have NOT filed a Qui Tam and have not found anyone willing to do this – so if you are approached, you should consider this.  Then: "… No one is beating down our doors to help us." 
Email 6.0
The PROBLEM with what is said in the emails above (5.0 & 6.0)  is that one says she can't get anyone interested, and the one just above says she has NOT filed, nor can she find someone to do it.
WhAT SHE SAYS IS NOT TRUE… Szymoniak had already filed her Qui Tam lawsuit in South Carolina on June 4th.   The emails above were sent to Mr. Figueroa on June 28th.
Email 7.0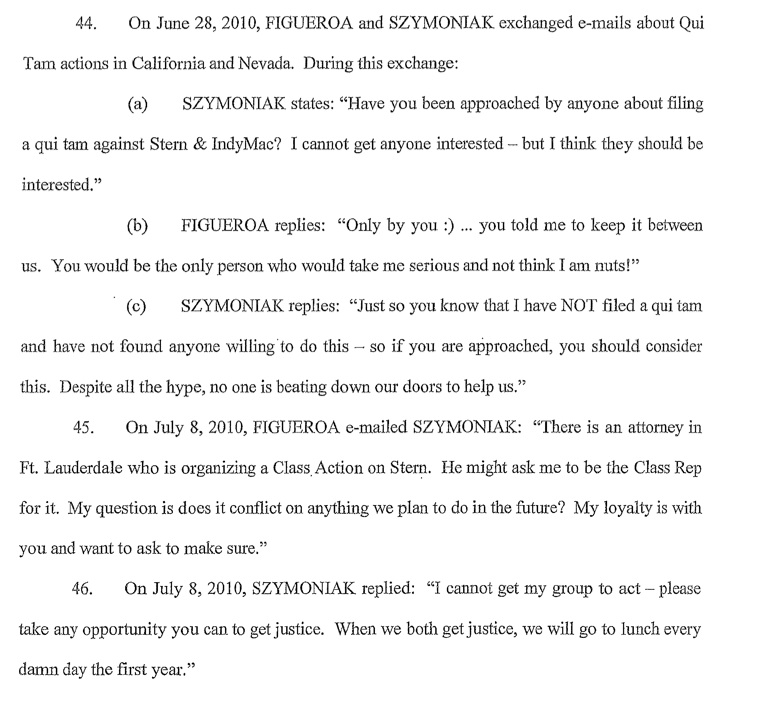 THEN, ON JULY 8th… Plaintiff emails Szymoniak again to ask her if his involvement in a separate class action law suit as the named party, would in any way conflict with what they had planned together, and made it clear that his loyalty with with her.  Szymoniak replies to that email by saying, that she has been unable to "get her group to act," and that he should pursue any other avenues for justice that became available.
Email 8.0

By July 8th, not only does Lynn Szymoniak tell Mr. Figueroa that she cannot get her group to act, but that he should take any opportunity he can to get justice… in other words, it appears that she's bailing out on their working together.  When she wrote this email, her attorneys in South Carolina HAD FILED her False Claims suit… with Lynn appearing in the filing, NOT as a lawyer… but as the "RELATOR."
But all she offers Mr. Figueroa is going to lunch together every day for a year once they've both gotten justice… but her tone is no longer as it  was back in February, when she was offering to file things together… now it's clearly an everyone for themselves sort of thing.
I simply don't know how you get around that… the dates are the dates. 
Lynn absolutely knew that she had been named as the "relator" in the false claims suit her South Carolina law firm had filed on June 4th, and yet as late as June 28th and July 8th… she states clearly and in all caps, that she has NOT been able to get her group to move and therefore that she has NOT yet filed a false claims action.
At both of those moments in time, what she said in her email to Mr. Figueroa about the filing of a false claims act suit… wasn't true.
But, because false claims filings are required to be made "under seal," it was also a lie that she knew no one would be likely to discover for years while the filing remained sealed.  It was almost two years when the country would learn of her triumphant victory and newfound riches, but even so, I'm sure it happened much faster than Lynn or her lawyers expected.
As many might recall, the $25 billion National Mortgage Settlement ended as a bit of a shotgun wedding, with President Obama pressuring both sides to reach an agreement.  After that it wrapped up rather quickly, which led to Szymoniak's award.
When Mr. Figueroa heard the news, however, those close to the case have told me… he felt terribly sick to his stomach… almost as if he'd been knocked down… hard.  And I think I would have felt the same way in that situation, as would anyone with a pulse, I'd imagine.
A few key points about all of this…
I want to reinforce a few key points at this point in the story.
Szymoniak and Figueroa are not equals.  Lynn is an attorney as is her ex-husband, and as are the others she brought to the situation.  They are all held to a higher standard than a layperson as to the ramifications of withholding information, violating attorney client privilege, and failing to disclose a conflict of interest.  She owes a duty to her client that he be informed so he can make "informed decisions."
The False Claims lawsuit filed in South Carolina was roughly 150 pages in length.  In order to file it on June 4th, it had to be "under construction," if you will, at least a month or two before that date.  And as the "relator" in the case, Lynn had to know that.  That means, based on what she said and didn't say over the two months before the suit's filing, April and May, was either deceiving her client or at least allowing him to remain in the dark.
A False Claims suit must be based on facts not in the public domain, and yet the South Carolina  complaint is largely made up of public information.  The notable exception in Szymoniak's Qui Tam filing was the "authorized LPS signers," and that information was provided at least in part by Mr. Figueroa, as can be seen in the attachments to his numerous emails.
When it was announced that Lynn was to receive $18 million from the settlement, had she said something to the effect of… how her win was the result of a team effort, or how she had received information from numerous sources… I might have had a tendency to believe otherwise about the situation.  But that's not the case here.  She took all the credit for the information used as the basis for her suit's filing… claimed she researched 10,000 mortgages online… all with never a mention of what the emails clearly show went on during the months leading up to her Qui Tam filing in early June.
As a side bar… I ran the math on how long it would take someone to review 10,000 mortgages online.  And if one were to spend only 30 minutes of review time on each mortgage, working eight hours a day and 250 days a year… it would take one person roughly 2.5 years to review 10,000 mortgages, assuming you did nothing else including giving up bathroom breaks during the work day.
At 60 minutes each, we're talking about one person needing to spend 5 years to review 10,000.
Lynn was interviewed recently for a story that appeared on BloombergBusinessWeek… this past week, on September 12th.  Most of what the article contained was identical to countless past articles written in a similar vein, although in a couple of paragraphs Lynn offered some additional facts about her story.  From Szymoniak's interview in Bloomberg Businessweek on September 12, 2012.
One morning in May she logged on to her online checking account and saw a balance with more digits than had ever been there before. She quickly called her kids. "You know that money I told you about?" she asked. "It's here."  After paying her lawyers and taxes, her take came to $5.5 million.
So, $5.5 million is a lot less than $18 million, which has always been the amount of her award quoted in the press.  And then she added the following information about where she's spent money to-date.
 With the proceeds from her suit, she paid off her mortgage and made a sizable donation to an organization that takes veterans hunting and fishing.  She took the family to Maui, landscaped her yard, and told her kids they could each get a car—so long as it costs less than $50,000…"
I have to say that I was surprised by that disclosure, in light of how excited she claimed to be about supporting some housing related charities when interviewed by Huffington Post last year.  I know, that's really none of my business, she's free to do whatever she wants with her money… assuming it is her money.  But, it still makes me wonder why her non-profit hasn't done more.
She certainly didn't mention anything about Mr. Figueroa's lawsuit in the Bloomberg interview, even though she recently tried to have the suit removed to federal court (ironically, just like Deutsche Bank would have done to a homeowner, right?).  But the court said no and sent the case back to Broward County.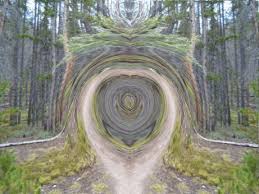 The thing is… this lawsuit becoming public has had to be on Lynn's mind.  
Lynn knows that the details of Figueroa's lawsuit are going to become public soon.
Whether I write about it now… or someone else writes about it next week or next month.  She has to know that soon all this is going to make national news.  And she has to have been thinking about that happening for months, if not years, but what could she say?  And the longer you don't say anything… the harder it must get to say anything.  All she could do was wait.
That has to be very hard on a person… it would very likely cause me to lose sleep.  Because I'd know that regardless of my planned defenses to Figueroa's allegations, the facts of the complaint alone, as found in the emails, are not going to make me look good no matter what.  And I'd think that would be stressful for anyone, but especially someone who's so widely been seen as a hero.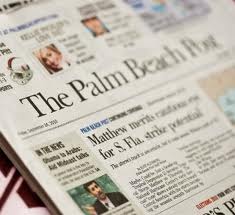 But, it's out now, and not just because I'm writing about it here.  The Palm Beach Post picked up the story late this past Friday.
Florida foreclosure fighters fight each other
Foreclosure fraud fighters are battling each other in court after a Palm Beach Gardens woman was accused of stealing someone else's ideas and working to win an $18 million whistle-blower lawsuit against major lenders.
Lynn Szymoniak's HOUSING JUSTICE FOUNDATION
And that provides the perfect segue into my final comments which have to do with Szymoniak's recently formed non-profit organization, the Housing Justice Foundation.
I went to the Housing Justice Foundation's Website for the first time about two weeks ago after two homeowners, independent of each other, told me that they had contacted this new non-profit founded by Lynn Szymoniak, to ask for assistance of some kind.  Both were told the foundation couldn't do anything to help them… except refer them to a "Resources" page, which is primarily a list of lawyers that represent homeowners.
Calling around to others in the space, I learned that homeowners are regularly contacting Lynn to ask for money, even in last week's Bloomberg Businessweek article, Lisa Epstein of the site Foreclosure Hamlet, mentioned that it was a common occurrence.
Desperate homeowners still contact Szymoniak, finding her at the foundation she set up to fight robo-signing. "They want to report crimes, and they want to report it to me, because they have no luck reporting to a law enforcement agency," she says. To some, she is not just an ally, but someone with deep pockets. "They go to me for advice, and they go to Lynn for money," Epstein says.
Now, I don't find anything wrong with Lynn's decision not to offer financial assistance to individual homeowners who contact her.  Besides the fact that what she does with her money is her business, even if she wanted to give money to struggling homeowners in certain circumstances, the way to do that wouldn't be to simply say yes or no to those who call her on the phone.
Others have told me that people calling her for money annoys her at times, and I don't find that the least bit hard to believe.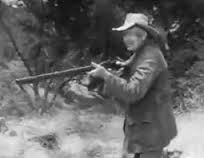 Showing up in the press as the recipient of an $18 million award, I would imagine, would not be an easy thing to deal with for all sorts of reasons and people asking for a hand out for whatever reason would be only one of them.
Still, the way the homeowners described their experiences seemed odd and I wanted to see what the Housing Justice Foundation was saying about its mission.  And, the "About" section of the site says exactly what I expected it to say…
The Housing Justice Foundation is a non-profit organization in West Palm Beach, Florida, dedicated to finding alternatives to foreclosures.

We are committed to telling the truth about predatory lending, fraud in the mortgage securitization process and fraud in loan documentation.

Rather than a solution to the housing crisis, foreclosures are a blunt, transient fix to a complex problem. Foreclosures destroy families, neighborhoods, and force home values down, hurting the entire community.

We support loan modifications with principal reductions to fair market value.

We believe that bank executives and securities company executives who commit crimes should be prosecuted, and that crimes were committed and continue to be committed in mortgage foreclosures nationwide and worldwide.
Certainly nothing wrong with that.
Clicking around the site, I found Lynn's various posts, along with links to articles written over the last few years by those that might be considered the usual suspects.  I then went to check out the organization's directors, and besides Lynn, there are three others: Mark Cullen, Zachary Cullen and Rachel Brown.  Here's Mark Cullen's bio…
Mark Elliot Cullen is the Co-Director of The Housing Justice Foundation and one of the founding members. In 2008, Mark earned his B.A. in Professional and Creative Writing from Carnegie Mellon University. In 2012, Mark received a Masters in Fine Arts from The New School. He currently works full time for Housing Justice and is pursuing independent study in literature. He is particularly interested in representations of the housing crisis in the media.
Then there's Zachary Cullen…
Zachary Cullen is a Director and Vice President of The Housing Justice Foundation, and one of the organizations founding members. He graduated from Florida Atlantic University in 2007. He is currently focused on housing issues in Palm Beach County and the operation of The Housing Justice Foundation.
And finally there's Rachel Brown…
Rachael Brown is the Treasurer and Co-Director of Housing Justice Foundation. Since graduating from Carnegie Mellon University ("CMU") in 2008, Rachael has worked in property management and Non-Profit business administration.
I have to tell you that I was immediately struck by the apparent youth of all three of these "directors," not that there's anything wrong with being young necessarily, and maybe it's because of my age, but all three graduating from college in either 2007 or 2008 did stand out in my mind be as being odd.
Choosing to have one recent grad help you co-found such an organization is one thing… choosing two, maybe… but all three being in that age group just didn't seem like something that would happen naturally.
It wasn't like any of their resumes particularly prepared them for the sort of work that would be involved in fulfilling the organization's stated mission.  Having a masters in fine arts is nice, but it doesn't have all that much to do with the foreclosure crisis.
I also had to wonder about two of the three having the same last name, Cullen, and the third, Rachel Brown  having the obvious connection of graduating in the same year, 2008, from Carnegie Mellon University as did Mark Cullen.
I tried searching the Internet for other mentions of Mark, Zach or Rachel… but couldn't find a single one… not even a Facebook page or MySpace account, nothing on Twitter, Instagram, Vine… nothing from the colleges the three attended… nothing from their high schools either.  And that seemed unbelievable to me… my daughter's only 17 and when I search for her name in quotes online, I get 424 hits on Google.
It turned out to be easy to solve… one call to someone who knows Lynn well and the mystery was over… Mark and Zach are her two sons… Rachel is Mark's girlfriend.  And that call also explained why her lawyer's last name is Cullen too… it's her ex-husband, I'm told.
Look, I don't care if you want to start a non-profit and put your kids on salary… as long as your CPA signs off on it, it's none of my business.  But, why hide them?  Why not say that "it's me and my children who have been with me through this battle and are committed to the mission."
Who would dare say a word in opposition to someone wanting their kids working with them?  But, in this case the kids are hidden by different last names and no disclosure of who they are is offered anywhere.  And right or wrong, it makes me question things about the organization.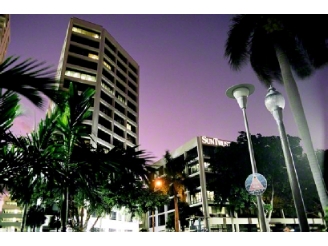 There was one thing about Lynn's new non-profit that I just thought was great… their offices are fantastic. 
The Housing Justice Foundation's offices are found at 505 S. Flagler Drive, West Palm Beach, Florida… a very prestigious address, I must say.  Here's how the building is described by leasing agent types:
"On the Flagler Waterfront with beautiful water views of the Intracoastal Waterway in the heart of downtown West Palm Beach, on-site deli, conferencing facility, covered parking, and 24/7 on-site manned security."
Google Earth is so cool.  If you stand at their building and turn around 180 degrees, you discover that they're not kidding when they say it's on the water… that's the view from their offices below.
And although it's hard to tell for sure, I counted and it looks like the building is 13-stories high… and the foundation is in Suite 1331, so… a penthouse suite?  Very nicely done.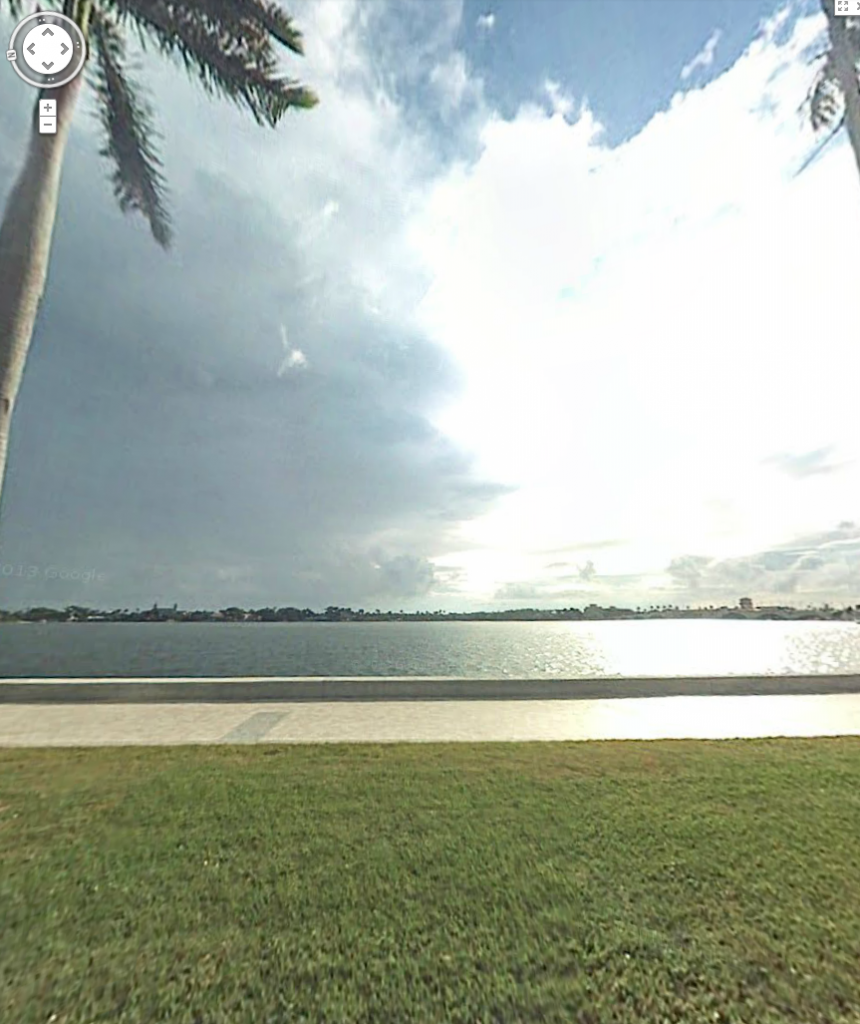 WHAT LYNN APPEARS TO BE WORKING ON NOW…
As reported by The Real Deal on August 25, 2013…
The allegations of violations of the False Claims Act from Florida-based attorney and fraud expert Lynn Szymoniak and her legal team have just been unsealed. Now, Szymoniak and her lawyers are looking to bring big banks and mortgage servicers to trial in federal court.

Szymoniak's  lawsuit, filed against two dozen banks and mortgage servicers, alleges that New York City and New York State have been the victims of mortgage fraud with damages possibly exceeding $100 million.  The suit alleges that the widespread creation and use of fraudulent mortgage documents reduced the value of mortgage backed securities purchased by the city and state.

Szymoniak and her legal team are trying to determine which mortgage backed securities were purchased by New York City and state.
When the $18 million award was announced, Lynn's attorney, with whom she split the final award, was quoted by HousingWire as saying: "This is only the beginning of the use of the False Claims Act as a tool in seeking redress from complex financial fraud."
So, I could be wrong, but it sure does seem like that's what the non-profit Housing Justice Foundation does… it's mission is to attempt to win hundreds of millions from lawsuits?

FINAL THOUGHTS… 
Mr. Figueroa is represented by the firm St. Denis & Davey, in Jacksonville, Florida.  The firm specializes in legal malpractice cases.  Here's some of what it says on the firm's Website…
"Attorneys cannot serve clients whose interests are opposed to each other. We are not afraid to sue other attorneys who have ignored legal ethics, and have been careless with, or neglectful of, your interests. The Florida conflict of interest lawsuit attorneys at St. Denis & Davey protect the rights of those who have been wronged by their previous attorneys through conflict of interest.  If your attorney had a business or personal relationship that causes you to suspect that your confidential information was disclosed to another to your detriment, the attorney has created a conflict of interest."
I spoke with Don St. Denis, the firm's co-founder, this past week and among other things, he explained to me that the only time a lawyer can withhold information from their clients, or waive the attorney client privilege is when he or she believes their client is in some sort of imminent danger.  Other than that, lawyers have a duty to make sure their clients are able to make informed decisions.
St. Denis says that Lynn had a clear duty to inform Mr. Figueroa as her client, that she was filing a Qui Tam lawsuit in which she would be the suit's "relator," instead of him.
However, even 4-5 weeks after her Qui Tam suit in which she was the relator had been filed in South Carolina, her emails continued to tell Mr. Figueroa that she had NOT filed such a suit and couldn't get "her group to move forward."
Denis explained that Lynn was Mr. Figueroa's attorney, that she never withdrew from representing him, and that according to the law firm in South Carolina that filed her Qui Tam suit, she never disclosed Figueroa's existence to them either.
Last Friday, Don St. Denis told The Palm Beach Post…
"Her entire idea came from my client.  She had him doing research and work thinking he would be the relator."
Lynn's only response to Figueroa's lawsuit thus far has been to say:
"I did not represent him in any false claims act matter anywhere, ever, and there is no retainer agreement," she said. "I can't comment since we are still in litigation other than to say that I expect it will be dismissed."
Lynn is correct.  The retainer agreement she sent to Mr. Figueroa at 6:01 AM on February 17th that year, did not specify a False Claims matter.  She's arguing that he didn't hire her for a False Claims matter, so she didn't file a False Claims matter.  So, what… case dismissed?
At the outset of their attorney client relationship, Szymoniak was talking more about filing class actions than anything else, but the six months of emails between the two show that the idea of a False Claims filing was becoming more and more attractive.  Szymoniak continually asked Figueroa how the government was damaged, while he continued to supply information in that regard.
Clearly, Figueroa was looking to his lawyer, Lynn Szymoniak, to answer the question of what type of suit should be filed, and at a certain point Szymoniak abandons the idea of a class action and adopts the False Claims idea, asking him if he'd want to do it with her, and him responding by saying "if it will make the case stronger, then I'm in."
After that, Szymoniak leads Figueroa to believe that she is actively trying to get her co-council interested in moving on the idea, and throughout this entire time, it is him… not her that is to be the "relator" in such a suit.  In fact, other than asking him about "doing it together," I found no conversations in which Szymoniak talks about her role as being anything but his attorney.
The dialog between the two over that six months, as documented in the emails, makes her stated defense to the allegations, "It didn't say False Claims on the retainer," preposterous.
The facts remain… she deceived him into thinking that she was acting in the role of his attorney, asking him for information over several months, telling him she was trying to get her group interested in filing a at suit under the False Claims Act, and then saying that she'd been unable to generate sufficient interest in the False Claims matter… and while all of that was going on in communications between the two… in reality she was planning preparing and ultimately filing her own False Claims suit in which she alone would be the "relator."
Now that the settlement of that suit resulted in her being awarded millions of dollars, the entire idea that her defense would be to say that, "False Claims matter" wasn't included on the original retainer agreement is about as compelling an argument as would be the statement, "You didn't say Simon Says."
In my mind, the emails between Szymoniak and Figueroa over roughly six months make it clear that whatever else is, or is not, true…
Lynn sent Figueroa a retainer agreement, saying she was "excited" to be his lawyer.
Figueroa without question BELIEVED Lynn was his attorney, and she did everything to reinforce that belief, and nothing to contradict it.
Figueroa SENT HER information on fraudulent foreclosure practices over many months.
Lynn asked if Figueroa wanted to file a False Claims lawsuit TOGETHER.  He replied, "I'm in."
She continued to ask Figueroa for information on how the government was damaged by the fraudulent documents.  He sent her the information she asked for month after month, BELIEVING the information would being used for HIS AND HER benefit.
A 30-year lawyer, Lynn HAD to know of the CONFLICT of interest that existed, if you can even call it that.  All lawyers know of the critical need to disclose and avoid such conflicts, and this is so much worse than that.  Usually, a conflict of interest means representing two clients with opposing interests.  This is a case involving a lawyer concealing the fact that she is acting in her own self-interest or even self-dealing.
Emails show that at the same time that Lynn was involved in covertly preparing her own False Claims filing, she was trying to put Figueroa off the trail by telling him that she continues to be unable to find anyone interested in filing his False Claims suit.
Lynn told Figueroa that she HAD NOT FILED a False Claims lawsuit in multiple emails sent weeks AFTER THE DATE that her suit was filed in South Carolina naming her as the "relator."
Only a couple of quick questions remain… 
Lynn is a 30 year lawyer… Did she really think that she wasn't obligated to tell Mr. Figueroa anything about what she was actually doing… to him… her client?   If that's what she thought, then why not just tell him?  I mean, if she really believed that she was perfectly justified in what she was doing… then what's the big deal about letting him know?
Did she convince herself that all that mattered were the sentences written on the retainer agreement, as if the inclusion or omission of something on a lawyer's retainer agreement would provide blanket immunity for any sort of unethical, unconscionable, or even criminal behavior by the attorney.
Ooops, too bad… I know I deceived you… stole from you… failed to disclose that the conflict of interest was actually my own self-interest… led you astray and even lied to you about having filed my own False Claims suit… and  I pocketed millions as a result… but since the retainer agreement didn't specify exactly what I was screwing you out of… I win.  Ha ha.
The incredible irony of this being Lynn's defense to the allegations in Mr. Figueroa's lawsuit is that the only other time I can remember hearing a comparable defense, following such unethical and deceitful behavior and resulting in such a significant loss by one of the parties… well, it would have to be something Wells Fargo claimed as justification for foreclosing on someone's home.
"I know… we said you could have a trial modification, and that if you made your payments we'd make it permanent, but if you read them carefully, the HAMP guidelines actually say that we only have to give you a permanent modification if we send you the permanent modification papers, and since we never sent you those documents… nothing else we said or diid during the process matters, so pack your stuff… you lose."
And what if Lynn were to represent a lawyer in an identical situation as the one she was in during that six months in 2010 with Mr. Figueroa?  Would she caution that lawyer to act very differently, or would that attorney end up in the exact same place Lynn is today?
I think the answer to that question has only two ways to go.  If the answer that she'd advise that attorney to behave just as she did in this case, then I would have to say that she shouldn't be giving advice to anyone for any reason, because she's dangerous.  And if the answer is that she would in fact advise that lawyer to disclose the conflict, refuse to look at any information, and decline to provide representation of any kind… then she knows what she's done here.
Epilogue…
Although he's retired today, my Uncle Walter was a patent attorney for many years.
What do you suppose would happen if my uncle had seen an inventor's video demonstration of his new invention on You Tube and then called and asked the inventor to meet him for Happy Hour.
Then, after producing a retainer agreement, and announcing that he was excited to be the inventor's lawyer, my uncle proceeded to get information from the inventor over several months, which the inventor provided because he believed that my uncle was his attorney and needed the information to prepare the new product's patent application.
As my uncle tells his client that he's looking for a group to help launch the new invention, secretly, my uncle is getting information from the inventor in order to make a slightly different product… something requiring a slightly different patent.
At the same time my uncle is telling his client that he's unable to find anyone with enough interest to file a patent on the product, and therefore discouraging him from doing so… .he prepares  his own patent application for the modified product of which my uncle conceived and he he lists only himself as the inventor.  And as it turns out my uncle ends up with millions, while his inventor client gets nothing.
Is my uncle safe in that situation based on what was or wasn't written on the retainer agreement?  Or, is it more likely that when my uncle's client discovers what my uncle has done, that he flies into a rage and files a lawsuit alleging legal malpractice, breach of fiduciary duty, unjust enrichment and fraud?
Mandelman out.
The Documents:
Figueroa v. Szymoniak, Original Complaint
Original Complaint – False Claims Act Complaint – Lynn Szymoniak v. Everyone
Plaintiff's Motion for Leave to Amend – Adds Punitive Damages
Defendants Lynn Szymoniak Answer and Affirmative Defenses
Plaintiff'Motion to Compel Better Answers
Defendants Kleinman Answers and Affirmative Defenses
Order Granting Plaintiff's Motion to Remand