Meet Thomas Cox, Esquire. A National Hero in Foreclosure Defense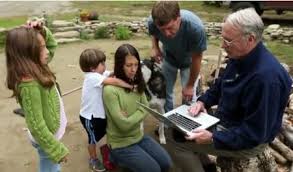 Portland Maine attorney Thomas Cox is a national hero of the foreclosure crisis.
Frankly, I thought everyone already knew that, but apparently not.  So, if you aren't already familiar with what Tom has done and continues to do for homeowners, take a look below… click PLAY on a few videos… read what the New York Times, Huffington Post, the American Bar Association… and others have to say… and see for yourself.
Watch Tom testify in front of the House Judiciary Committee… see him awarded the $100,000 Purpose Prize… read what Boston University Law School has to say about his accomplishments… and much, much more.  It will make you want to stand up and salute him… and it will likely bring a tear to your eye too.
I'm posting this tribute so that more may know of Tom Cox, the lawyer from Maine whose work led to the $25 billion National Mortgage Settlement.  He's not the only hero this crisis has produced, but he's one of a kind, nonetheless.
Mandelman out.
~~~
A Tribute to Thomas Cox, Esquire
An American Hero of the Foreclosure Crisis
~~~
~~~

Published: October 14, 2010
From a Maine House, a National Foreclosure Freeze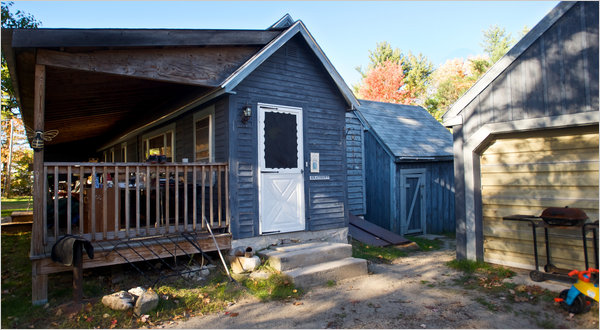 DENMARK, Me. — The house that set off the national furor over faulty foreclosures is blue-gray and weathered. The porch is piled with furniture and knickknacks awaiting the next yard sale. In the driveway is a busted pickup truck. No one who lives there is going anywhere anytime soon.
Nicolle Bradbury bought this house seven years ago for $75,000, a major step up from the trailer she had been living in with her family. But she lost her job and the $474 monthly mortgage payment became difficult, then impossible.
It should have been a routine foreclosure, with Mrs. Bradbury joining the anonymous millions quietly dispossessed since the recession began. But she was savvy enough to contact a nonprofit group, Pine Tree Legal Assistance, where for once in her 38 years, she caught a break.
Her file was pulled, more or less at random, by Thomas A. Cox, a retired lawyer who volunteers at Pine Tree. He happened to know something about foreclosures because when he worked for a bank he did them all the time. Twenty years later, he had switched sides and, he says, was trying to make amends.
Suddenly, there is a frenzy over foreclosures. Every attorney general in the country is participating in an investigation into the flawed paperwork and questionable methods behind many of them. A Senate hearing is scheduled, and federal inquiries have begun. The housing market, which runs on foreclosure sales, is in turmoil. Bank stocks fell on Thursday as analysts tried to gauge the impact on lenders' bottom lines.
All of this is largely because Mr. Cox realized almost immediately that Mrs. Bradbury's foreclosure file did not look right. The documents from the lender, GMAC Mortgage, were approved by an employee whose title was "limited signing officer," an indication to the lawyer that his knowledge of the case was effectively nonexistent.
~~~

Alumnus Fights to Stem Tide of
"Robo-Signer" Foreclosures: 
Thomas Cox ('69) filed suit in Maine that led to national foreclosure freeze
During the housing bubble, it was pretty easy to get a mortgage even if you couldn't really afford it. But when the bubble burst, millions of people lost their jobs and could no longer pay for those mortgages. In many cases, homes became worth less than their mortgages, making it difficult to sell or refinance.
The result was that approximately 4 million Americans lost their homes to foreclosures, according to The New York Times. Making matters worse, there are claims that the foreclosure processes used by some of the largest banks were improper or even fraudulent. At the heart of many cases—and investigations by 50 state attorneys general—is a type of bank employee that has come to be called a "robo-signer," meaning someone who robotically signs foreclosure documents without checking their accuracy.
Thomas Cox ('69) of Portland, Maine was one of the first attorneys to take on a robo-signer lawsuit, and his success in Maine against GMAC Mortgage has led the way for attorneys around the country in similar suits.
He explains that his work in this area began after a 10-year retirement from his practice in which he, ironically, represented banks. Volunteering for Pine Tree Legal Services' Maine Attorneys Saving Homes program, he happened to pull the file for Nicolle Bradbury's foreclosure case.
Her file was one of many in which he had begun to see a suspicious pattern in the foreclosure paperwork. "When I got to Nicolle Bradbury's file, I decided I wasn't going to let that one go," says Cox.
While deposing the "robo-signer," Cox says the bank employee admitted many improprieties with the paperwork. "Astonishingly, he even admitted that when he's all done, he signs papers and somebody else picks them up and takes them down the hall to the notary who then signs a certification that [the signer] personally appeared and was sworn before her, which was fundamentally untrue."
So he began filing sanctions motions in several cases, including the Bradbury case. Cox says he also went to the Maine attorney general, who issued a civil subpoena for GMAC to hand over information pertaining to its foreclosure practices. In addition, he joined forces with other attorneys to initiate a class action suit against GMAC.
Within a few months, GMAC published an announcement that it had stopped all foreclosures around the country. "GMAC's [foreclosure freeze] was followed by JP Morgan Chase, Wells Fargo, Bank of America and a bunch of others in in the fall of 2010. My goal was to take care of Maine and get GMAC's misconduct stopped here, but it went national, which was fine by me," says Cox.
While many people would opt for retirement at this point, Cox says he's staying in the fight. "There is no doubt in my mind that I'm on the right side and I believe in what I'm doing and my ability to make a difference," he explains.
In honor of his work, he was awarded the 2012 BU Law Alumni Pro Bono Award at a ceremony at the Law School in April.
~~~

Blame Dishonest Banks, Not Ethical Lawyers Exposing Foreclosure Frauds
 Thomas A. Cox, a volunteer lawyer from Maine who outed the first robo-signer, wrote a letter in response to attacks against those who are defending homeowners facing foreclosure. He demands that the blame be placed on the banks, where it belongs — not on the lawyers working to expose fraud. This post originally appeared on New Deal 2.0.
Dear Judge Sarokin:
I take issue with your Huffington Post article of November 22, 2010, in which you criticize lawyers defending homeowners in foreclosure cases. You assert, "To oppose the foreclosure, when both the borrower and lawyer know the mortgage is in substantial default, to my mind borders on the unethical." Not only is this assertion grossly unfair to these overworked, dedicated and ethical lawyers, it is based upon a fundamentally false premise as to the mechanics of the foreclosure summary judgment process. Inexplicably, you fail to offer the slightest criticism of the foreclosure industry and the ethics of its lawyers, who have presented thousands of false (and literally perjurious) affidavits in foreclosure summary judgment motions all across the county.
~~~
THE DESTRUCTION OF A FORECLOSURE LAWYER'S FAITH IN THE JUSTICE SYSTEM

by Tom Cox
My faith in our courts' willingness to protect individuals against what the Maine Supreme Court itself called the "fraudulent" and "unethical" conduct of the nation's fifth largest mortgage loan servicer (which is also largely owned by the American people — Ally Financial, the parent of GMAC Mortgage, is 76 percent owned by taxpayers) is broken.

Two days after this unfortunate decision, and exactly one and a half years after exposing this fraudulent and unethical conduct, I, as a lawyer who spent his entire career believing in our justice system, am left with a deep sense of despair and a lot of questions. If we could not succeed in obtaining justice in this case, what more can we possibly do?

What will it take to cause courts to stand up to and halt this "serious andalarming lack of respect for the nation's judiciaries" by America's largest financial institutions? Is my continuing effort to try to help homeowners in foreclosure really worthwhile? How can I possibly tell clients to believe that our justice system will protect them against the depredations of America's financial industry?

Why should I continue my volunteer efforts to expose injustice when the courts will not take decisive measures to sanction it and bring it to a halt when we provide such clear and convincing proof of such fraudulent conduct?

I have devoted my career to the legal system and to seeking justice for my clients. I believed in the integrity of the judicial system and its capacity to prevent fraud and injustice. It is sad to be nearing the end my career with that belief so deeply shaken.
Read article in full here…
Thomas Cox is a retired bank lawyer in Portland, Maine who serves as the Volunteer Program Coordinator for the Maine Attorney's Saving Homes (MASH) program. He represents homeowners in foreclosure, and assists and consults with other volunteer lawyers in providing pro bono legal services to these Maine homeowners.
~~~
PORTLAND PRESS HERALD
Thomas Cox helped "blow the lid" off foreclosure fraud by some of the country's biggest banks, saving tens of thousands of homes.
December 6, 2012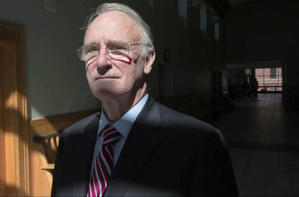 PORTLAND — In April 2008, Thomas Cox joined the Maine Volunteer Lawyers Project to fight against unfair foreclosure practices.
His reward for his services? $100,000.
Cox, the retired attorney who uncovered the practice of "robo-signing" and other illegal practices in the mortgage industry, was one of five people honored Wednesday with the 2012 Purpose Prize, which recognizes people older than 60 who work toward the public good and rewards them with $100,000.
It's a stunning turnaround for a man who once was a lawyer for Maine banks, helping with debt collection and foreclosures.
"I feel more alive and vital than I think I've ever felt," Cox, 68, said Wednesday. "I couldn't feel more satisfied with my work right now."
~~~

For Fighting Foreclosures, a $100,000 Award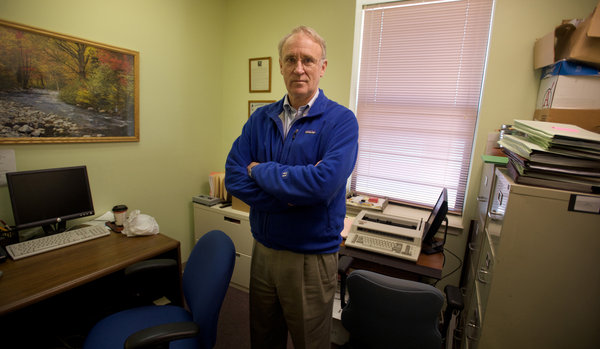 In 1989, Tom Cox, a lawyer for a Maine bank at the time, wrote the book on mortgage foreclosures ("Maine Real Estate Foreclosure Procedures for Lenders and Workout Officers"), detailing the most effective legal methods for seizing people's homes.

After 30 years of that, he retired and in 2008, during the Great Recession, he experienced a crisis of conscience and switched sides to work pro bono for people whose homes were being foreclosed on by banks.

 In this case it took a banker to catch a banker. Mr. Cox very quickly realized that GMAC, the mortgage company he was suing in court to save Nicolle Bradbury's $75,000 house, was mass-producing flawed paperwork to seize people's homes illegally. This set off what would become known as the robo-mortgage scandal, leading to a $25 billion settlement that forced the nation's largest banks to halt foreclosures.

For his work, Mr. Cox is one of five people to be awarded a $100,000 Purpose Prize, given to those 60 and over who have created fresh solutions to old problems. The prize, now in its seventh year, has become a sort of MacArthur genius award for people who develop a second career as social service entrepreneurs.
Mr. Cox, 68, said he plans to use most of his winnings to develop seminars that will train lawyers in Maine to perform consumer protection work.

"Maine is a state with a large rural population where a lot of the attorneys work solo or in two or three person practices," he said. "Many are unfamiliar with the protections provided under the laws."

Among other things, he wants to teach lawyers methods for having their legal fees paid by companies that they successfully sue. "A lot of these clients can't pay much, but their lawyers can recover legal fees from the other side," Mr. Cox said.

He hopes to bring national experts to Maine to educate the state's lawyers in consumer protection law.

He also plans to set up a corps of retired lawyers from around the state who will mentor new lawyers and work with them in court.

"The prize money won't cover the new programs," he said, "but I'll use it as seed money, hopefully to raise the $200,000 to $300,000 we'll need."

For the last four years he has paid for virtually all the foreclosure work out of his own pocket, he said. "The most I have received was $23,000 in counsel fees for the GMAC case," he said.

Asked if he intended to use any of the prize money for himself, Mr. Cox said, he might set a little of it aside for a fishing trip.
~~~
 CLICK BELOW TO SEE TOM ON CHANNEL 6 PORTLAND NEWS
~~~
Tom testifies in front of the House Judiciary Committee
Mortgage Servicers and Foreclosure Practices
December 15, 2010
~~~
MaineBiz.biz
NOVEMBER 29, 2010 | LAST UPDATED DECEMBER 1, 2011 9:59 AM
Finding a door | Attorney Thomas Cox takes on mortgage giant GMAC and ignites a national foreclosure freeze

BY JACKIE FARWELL
Attorney Thomas Cox returns to the Portland offices of Pine Tree Legal on a recent overcast November day with an envelope in his hand. He has just taken a short break from the daunting load of home foreclosure cases he's handling for the legal services nonprofit to retrieve a piece of restricted mail from the post office. Inside the brown envelope, he finds a handwritten note from a Connecticut man who'd read about Cox's pro bono foreclosure work in the New York Times. "Dear Attorney Thomas Cox," the letter writer scrawled, "Your work is saving dozens of lives, possibly hundreds of lives — although it is too late for me. Keep up the good work."
In place of a traditional closing, the man signed himself "Pre-'Final Exit'," referring to a 1992 book by Derek Humphrey, founder of the Hemlock Society, that details methods for suicide. The man included his full name and address, along with a postscript with the name and telephone number of his "executioner in absentia," a local foreclosure lawyer.
Unnerved, Cox returns to his small office to locate help for the man before it's too late. The letter is dated five days prior. With it, the man enclosed copies of two news articles, one about a study showing high rates of depression among homeowners facing foreclosure and another detailing the story of a Texas mayor who killed her daughter and then herself after suffering from financial troubles including foreclosure.
Cox sits straight up in his chair, the phone pressed to his ear. He reaches a local police department, but gets shuffled off to voicemail. He then manages to track down a Connecticut mental health clinic online and alerts the staff there to the man's letter. Then he waits.
More than five hours later, at 8:15 p.m., one of the mental health worker calls. Accompanied by police, they found the man in his home, alive but resistant to help. The caller tells Cox the man had been involuntarily committed to a mental health facility.
Unsettling as the incident was, it wasn't altogether shocking to Cox. Now 66, he has battled depression for much of his adult life, and sunk into a serious episode 10 years ago after his work calling in business loans for a Maine bank left his conscience heavy and his marriage battered. Many of the small business owners he'd worked with had put up their houses as collateral, and he'd witnessed the devastating effect it had on their lives. "There I was foreclosing on these people's homes," Cox recalls. "These were people I knew." The experience drove him away from practicing law for nearly a decade.
His professional history plays no small role in Cox's motivation for the work he does today, as head of the Maine Attorneys Saving Homes project, which coordinates pro bono legal referrals for foreclosure cases. What started in April 2008 as a 10-hour-a-month volunteer gig and a way to dip his toes back into the legal profession has grown into a full-time unpaid job for Cox that has landed him in the national media and in the crosshairs of one of the country's largest mortgage companies.
Cox is largely responsible for setting off the nationwide uproar over the mishandling of foreclosure cases by some of the nation's most prominent lenders. By exposing the practices of a GMAC Mortgage Co. employee who matter-of-factly admitted to signing hundreds of foreclosure documents a day with little knowledge of what they actually said, Cox helped to trigger a foreclosure investigation by all 50 states' attorneys general into the practices of mortgage lenders and servicers including Bank of America, JP Morgan and GMAC, which announced on Sept. 17 that it would temporarily stall foreclosure sales and evictions in 23 states, including Maine. GMAC services more than 20,000 mortgages in the state, and upwards of 1,000 have gone to foreclosure over the last four or five years.
For Cox, that announcement marked the most rewarding moment since he returned to practicing law. "We'd gotten them to pay attention in many, many cases in many, many states," he says. Cox was able to crystallize the nature and scope of the problem like no one else before him, largely due to his experience working the other side of foreclosure cases, according to his friend and fellow foreclosure attorney at Pine Tree Legal, Chet Randall. "Tom was able to close any doors that remained open for creditors to explain away these issues."
~~~
ABA Journal – Law News Now
How 2 Pro Bono Lawyers Uncovered 'Robo-Signer,' Halting Foreclosures in 23 States
A Maine pro bono lawyer's suspicions helped uncover a "robo-signer" mortgage employee and halt mortgage foreclosures in 23 states.
Pro bono lawyer Thomas Cox, who is retired from law practice, was representing a homeowner in a foreclosure case when he came across several documents signed by one GMAC employee: Jeffrey Stephan.
Cox, a lawyer in South Portland, Maine, turned for help to Geoffrey Lewis, a lawyer in Fryeburg, the Press Herald reports. In June, Cox deposed Stephan and learned that the employee of GMAC, now known as Ally Financial, was signing off on documents without verifying their accuracy.
It turned out that Stephan was signing 10,000 foreclosure documents a month, giving him only 1.5 minutes to review each document. Cox had uncovered information similar to that revealed in a December deposition. Both depositions were cited in a Washington Post story that says the revelations led Ally to halt foreclosures in 23 states and could pave the way to foreclosure challenges across the country.
"What blew me away," Cox told the Portland Press Herald, "was that Stephan admitted he didn't have custody of the file. It was scanned into a computer and he didn't even look at it. He didn't know if it was a true and accurate copy. He didn't read the affidavits. He just checked the numbers."
Cox and Lewis are volunteers with the pro bono group Maine Attorneys Saving Homes. They are still trying to get a summary judgment overturned in their client's case.
Before retiring, Cox helped collect money from businesses that had borrowed money from a failed Maine bank, according to The Home Equity Theft Reporter blog, citing a story from the Morning Sentinel.
~~~
December 2012
Lots of people must be credited with getting to the bottom of this scam, but perhaps nobody is more responsible than Thomas Cox. He was the former bank lawyer – he specialized in foreclosures – who volunteered to help Pine Tree Legal Assistance in Maine, a nonprofit just starting up a foreclosure defense project. Cox ended up doing the now-famous deposition of Jeffrey Stephan, the GMAC robo-signer, that exposed this practice of having affidavits filled out by people with no underlying knowledge of the loan data. This was the string that, when pulled, showed the fraud and rot at the heart of the largest consumer market in the world.

Cox, it turns out, has finally gotten the recognition he deserved for his work on this. Encore.org has presented him with the Purpose Prize, a $100,000 grant.