GUEST POST: Don't Be Concerned Martin Is Dead Wrong, by Michael Pines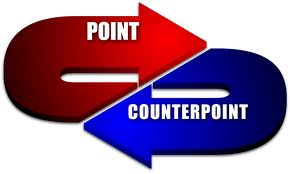 So, this morning I posted an article about the Glaski decision, which I first wrote about just after it became a "published decision" last August. Â In my article this morning I wrote about the Glaski case having "taken a hit," when another California court chose not to follow the reasoning from the Glaski decision and dismissed the borrower's complaint as a result.
My point was to make sure homeowners knew that just because Glaski prevailed last August, it doesn't necessarily mean that any other case will, and there's a link to my article below.
Well, my article was only posted for maybe an hour when I received an email from Michael Pines saying that my article was… well… nonsense. Â And he said that because of my article, he would now have to write an article to correct what I had posted, and post it on a site by the name of StopForeclosure.com. Â His email to me is below…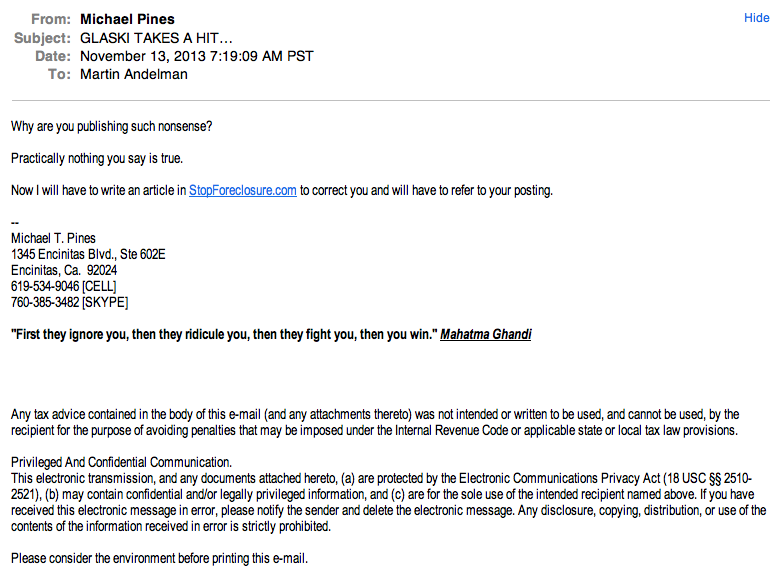 My article was nonsense?  Well, that would certainly be disappointing, I thought to myself. I wasn't aware that I had ever written an article that was considered nonsense by anyone.  I'm not saying that everyone likes what I write or the way I write it, but no one ever  challenges the facts presented in my articles because… well, because they're FACTS, that's why.
However, I was certainly willing to debate the issue with Michael, or anyone else for that matter, so I wrote back offering to post his rebuttal article on Mandelman Matters and he replied saying, "that would be great."
I waited in anxious anticipation for him to straighten me out, and about 90 minutes later his article arrived in my inbox. Â You'll find it in its entirety below… followed by my discussion of what he had to say.
(Isn't this fun? Â I don't know about you, but I'm having a great time!)
~~~
Don't Be Concerned Martin is Dead Wrong (by Michael Pines)
Martin Mandelman wrote a feature story entitled "GLASKI TAKES A HIT: California Court Rejects Reasoning in Glaski Decision."
GLASKI TAKES A HIT: California Court Rejects Reasoning in Glaski Decision
Respectfully, nothing could be further from the truth. (Sometimes I think Martin writes articles to sensationalize, rather that provide information. This isn't the first time I have e-mailed Martin about clearly incorrect statements made on his site, including one I wrote in the last few weeks all of which were ignored.  Although Martin states:  "… I love hearing from my readers", I guess he doesn't love hearing from me. This time he went way to far.)
Martin goes on to state things like Glaski was "rejected" by the court and similar statements implying Glaski would not be followed by that court, or others.  He also says that the court relied on the Gomes and Jenkins cases. Nonsense; as are most of the other statements in the publication about this. Other websites have also published statements saying there is a "conflict" in the law, worried about Glaski. (For example, see: http://www.lockelord.com/qs_2013californiacourt-chambers)
In San Diego where the case was heard, I am familiar with the judge; Judge Hayes.  Judge has is incredibly strict about enforcing procedure.  That is all he did, and I was not at all surprised.
One of my biggest frustrations in fighting for homeowners, perhaps the biggest, is that there are an enormous number of  "pocket attorneys" out there providing grossly incorrect information.  Often this information is relied on to scam people by the droves of scammers that are out there.
Although Martin is always careful to write the usual standard disclaimer that he is not a lawyer, his publication of articles that are just plain wrong can be misleading and cause concern, where none is justified.  Let me explain.
First and most importantly, the court did not reject Glaski in any way. All it said was that the homeowner had to plead more specific facts, and gave them leave to amend to do so.  I am confident they will be able to plead such facts and the case will move forward.  In legal terms, he gave them "leave to amend".
I plan to publish a Complaint that can be used based on the Glaski decision and the "New York Trust Theory", that has already been approved by a court in Texas.  In fact, the case was a class action and the court "certified" the class.  This means the complaint and other pleadings in that case were correct, and the case proceeded to the crucial stage of "certification". This is a very crucial stage in class actions.
This was a bit surprising because the court, in the Western District of Texas, has a reputation of being unfriendly to plaintiffs, especially in class actions.  Yet, it ruled in favor of the plaintiff homeowners, granting certification.  (Because this is such a crucial hearing, class action lawyers know that cases often settle shortly after such an order is issued.)
In that case, the bank did take an "Interlocutory Appeal" which is pending, and it may be transferred to New York, where a similar case is pending on appeal along with at least three others.  (Normally, appeals can only be taken when a case is over, however a party can request that an appeal be taken before that which is why it is called an "Interlocutory Appeal".)  There in fact are things to worry about concerning Glaski, as the banks attack it, but the decision Martin writes about clearly isn't.
My two cents. So, I would caution readers of Martin's cite that although he provides tons of good information, in my experience he is often wrong and overly sensationalistic.  He is entertaining, but from my point of view that is the most important value of his site (just my opinion.)