Un-Freezing Foreclosures in the Nevada Desert – A Mandelman Matters Podcast on What Nevada's Homeowners Need to Know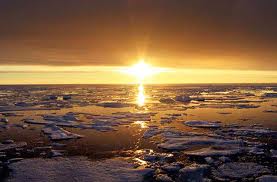 In October of 2011, the State of Nevada made national news when it passed a law related to foreclosures known as Assembly Bill 284.  It was often referred to as Nevada's "robo-signing law," because among other things, the law made it a felony for loan servicers to sign documents without "personal knowledge" of who owns the note, and it further required lenders to provide an affidavit showing they have the authority to foreclose.
Nevada was one of 11 states that enacted legislation to protect homeowners and regulate illegal foreclosure activity following the subprime mortgage crisis, but its law would have to be considered #1 in terms of its effectiveness… it put foreclosures in a sort of a deep freeze.
Just consider the chart below to see the impact of AB 284…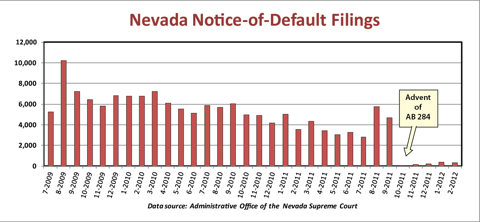 Well, ForeclosureRadar.com reported that Notices of Default fell by 80 percent as a result of the new law, so it should be considered a victory by any standard, but as we should have all learned by now… you can slow them down, but they aren't going to stop.
As any of us watching the foreclosure crisis closely now knows, when a law makes it too difficult to foreclose non-judicially, as the Nevada law clearly did… the banks just start foreclosing judicially. Â That's precisely what has already started happening in Nevada, and Reno bankruptcy and foreclosure defense attorney Gloria Petroni has a front row seat.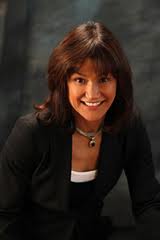 Born and bred in Reno, Gloria's practice has become one dedicated to helping Nevadans save their homes from foreclosure. Â She's a graduate of Max Gardner's Boot Camp, and an expert in all things related to restructuring debt and protecting the rights of homeowners facing foreclosure.
You see, not only are the banks starting to foreclose judicially, which means homeowners can be subject to deficiency judgements, but in addition rumors are saying that the state will have to soften AB 284 to make it somewhat easier to foreclose non-judicially.
Some real estate agents and housing analysts claim the law has only delayed the inevitable, and that it has curtailed the market's recovery, saying that it needs to be repealed, or at least "tweaked," at the 2013 Legislature to allow the foreclosure process to proceed.
Some are arguing that it has also given homeowners a free pass to stay in their homes. Â According to CoreLogic's estimates, 75,000 Las Vegas homeowners haven't paid their mortgage in the past 90 days. Â And unquestionably, some haven't paid in years.
But Nevada Attorney General Masto isn't convinced.
She says the law is not preventing banks from foreclosing on delinquent homeowners, as long as they do it right. Â She doesn't think AB 284 should be repealed because it effectively stopped robo-signing.
However, Masto has also said that she's always been open to suggestions for changing the law, and she is meeting with a group of stakeholders like title companies and lenders to review the law.
It's easy to see why the law would become controversial, but no one really knows for sure what's ahead. Â To get an idea of the debate, try this recent article from an October 2012 issue of the Las Vegas Business Press: "AB 284: Help of Hinderance."
Gloria Petroni is concerned that Nevada homeowners may have been lulled into a false sense of security by AB 284 and now aren't familiar with what to do when faced with having to fight for their homes in court. Â I think she's right about that, and I wanted homeowners in Nevada to hear what she has to say about the steps they should take now… before it's too late.
So, turn up your speakers and listen to this 30 minute Mandelman Matters Podcast with Reno attorney, Gloria Petroni, the Mandelman Matters Trusted Attorney for Northern Nevada… "What's Happening in Nevada's Housing Market, and What You Should Do About It."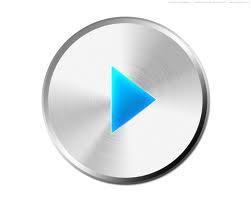 Mandelman out.