Attention Hawaii Homeowners with Bank of America and Ocwen Loans… Let Me Help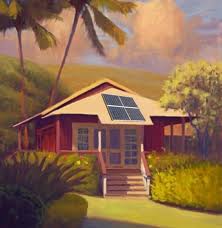 Okay, if you're a homeowner in Hawaii with a Bank of America or Ocwen mortgage, and you're trying to keep your home through a loan modification, or get out from under your loan through a short sale, I'm ready to help you make the best decision for you… and then get it done. Â 
Oh, and be assured… it won't cost you a dime… or even a nickel or penny. Â 
I'm not just making this offer on a whim, in fact, it's been a long time coming. Â I've spent many months in discussions with Bank of America and Ocwen management, talking about what makes Hawaii so special and so unique, and planning to make this announcement and start offering to help homeowners in Hawaii.



For those not yet familiar with who I am… my name is Martin Andelman and I'm the author of the widely read blog Mandelman Matters.
Over the last four years I've written over 700 articles covering the economic, political, social and legal aspects of the financial and foreclosure crises.  Today, Mandelman Matters is a definitive resource for homeowners seeking credible and practical answers related to the foreclosure crisis.
I've tried to help homeowners in any way I could over the last three plus years by writing about the truth of the situation… by helping people understand what has happened, and that in the vast majority of cases, it was not their fault and they should feel no shame.  I'm on the side of homeowners, but that doesn't mean that I should consider Bank of America or Ocwen not on that same side too.  As far as homeowners are concerned, it's time to come together to find some solutions.
In my experience talking one-on-one with literally thousands of homeowners from all over the country, I believe the worst part of the crisis has been the uncertainty… not knowing the options… and not understanding why no one has seemed to care enough to explain anything.  From the Oval Office to Treasury… from Bank of America to Fannie Mae to JPMorgan Chase… from the HUD counseling centers, the OCC, The HopeNow Alliance… whatever else they've individually or collectively done right or wrong…
… Every last one of them have communicated only moderately better than houseplants ever since the fall of 2008, and absent clear communication… we've filled in with some rumor… some misaligned facts.  And now a lot of what we think and hear is ONLY TRYING TO SELL US SOMETHING.
I'M GOING TO STRAIGHTEN ALL OF THAT OUT.  I'M GOING TO HANDLE THINGS DIFFERENTLY… BETTER.
As Reverend Bob Nakata said to me last year when I met with him on Oahu at the State Capitol:
"There is no dignity in the foreclosure process, and that is wrong."
For me, Bob's words had done something no one else's words had done. Â He had managed to communicate the essence of what was so very wrong in terms so elegant… so naked… as to be undeniable. Â And every time I spoke with executives at Bank of America and Ocwen, while I spoke about homeowners all over the country, I made a special point to speak about Hawaii and I offered to help if I could.
I know that many will not be able to accept this, but I do believe that the people who work at Bank of America and Ocwen do care about homeowners and VERY MUCH want everything to be handled better every day than the day before. Â If they didn't care, they certainly wouldn't be allowing me to offer to help.
A terrible situation made worse…
Four days ago I was saddened when I read about Marien Brown, "a Hawaii woman", who was sentenced to 18 months in prison for falsely representing that she operated a "foreclosure rescue" service to homeowners in Hawaii.
According to the FBI's reports, Brown targeted homeowners in Hawaii at risk of foreclosure sending them a large number of mailings advertising her "foreclosure rescue" service. More than 80 Hawaiian homeowners sent money to companies with names like First Financial and First Federal. But, Brown simply stole their money… none of the client funds were ever sent to lenders or servicers. The losses to homeowners in Hawaii totaled approximately $250,000.
Please don't let anything like that happen to you. Â Please talk to me before you buy-in to anyone's story about how they can save your home from foreclosure.
I'm never going to claim that I'm perfect, and I know that not every home can be saved. Â But I can tell you that I never lie to a homeowner at risk of foreclosure. Â And if I can't answer your questions, I will get you the answers you need.
I am planning to come to Hawaii this summer to hold meetings with homeowners so I can answer questions face to face, but starting today… please consider me a resource and your advocate, at least as far as Bank of America and Ocwen are concerned. Â And I hope to add other servicers to that list in the months ahead.
If you own a home in Hawaii and are at risk of foreclosure or think you will be at risk of foreclosure, send me an email describing your situation to:
mandelman@mac.com
Together I know we can make things better.
ATTORNEYS TOO: Contact me to as related to litigation against BOA or Ocwen.
Martin Andelman