Freddie Mac's Crimes Against Homeowners are NOT an Isolated Incident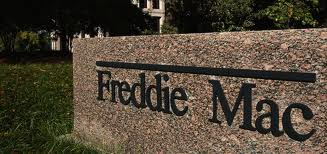 ProPublica is reporting that Freddie Mac has been placing "multi-billion dollar bets designed to only pay off when homeowners remain "trapped" in high interest rate loans, and that the government-owned mortgage monster began increasing such bets late in 2010, which they say is, "the same time Freddie was making harder for homeowners to get out of high-interest mortgages."
Now, the ProPublica story goes on to say…
"No evidence has emerged that these decisions were coordinated. The company is a key gatekeeper for home loans but says its traders are "walled off" from the officials who have restricted homeowners from taking advantage of historically low interest rates by imposing higher fees and new rules."
And I suppose ProPublica had to say that for whatever reason, probably because that's what the Freddie Mac SpokesLiar said when they asked about this egregious, fraudulent, criminal behavior that is also AT BEST yet another FAILURE OF GOVERNMENT to protect the American people.
Now, let me be very clear here, so as not to leave any doubt in what we should all understand about this situation that has been uncovered by an investigation conducted by NPR and ProPublica…
1. Freddie Mac has essentially been nationalized. It is 100 percent funded by U.S. taxpayers because if it weren't for U.S. taxpayers Freddie Mac would be bankrupt. 

2. As ProPublica also points out in its story, Freddie Mac's charter "calls for the company to make home loans more accessible. Its chief executive, Charles Haldeman Jr., recently told Congress that his company is "helping financially strapped families reduce their mortgage costs through refinancing their mortgages."  Really, Haldeman?  Or maybe, not so much.

3. The statement above about how Freddie's traders are "WALLED OFF" from the people at Freddie who have restricted homeowners from getting lower rates so they could keep their homes is OFFENSIVE in so many ways I hardly know where to begin.

First of all, Freddie Mac… IT'S A BOLDFACED LIE.  Do you think you are dealing with a nation of 4 year-olds?  How dare you even try to make such a case to the American people?  Secondly, what right do you have to be "restricting homeowners" from doing ANYTHING?  You are a bankrupt mortgage company that failed so spectacularly that you have cost the American taxpayers incalculable and untold billions of dollars.  The way I see it, you have no right to "restrict" anyone from doing anything.

4. Mr. Charles Haldeman Jr. if you do not end up in prison for the rest of your life, it will be an abominable miscarriage of justice.  When you consider the state of the U.S. and even the world's economy, and the fragile nature of our banking system, in which almost all trust has been destroyed… Freddie's acts here constitute TREASON, and Mr. Haldeman should be considered nothing less than a TRAITOR to this country.

No, he didn't declare war on the United States, or give aid and comfort to our enemies, but congress has, at times throughout our history, passed statutes creating offenses related to treason for acts that undermine the government or the national security, and in my mind, Mr. Haldeman as Freddie Mac's Chief Executive, most certainly allowed such acts to occur in this case.

5. But Haldeman didn't commit these acts alone… the others involved must be arrested and tried for these crimes so they may be brought to justice as well.  And where is Mr. Edward DeMarco, the head of the FHFA, the conservator of both Freddie Mac and Fannie Mae?

At an absolute minimum, and to avoid his own prosecution, if that's even possible, we should all be calling for his IMMEDIATE RESIGNATION, and he should be delivering on national television his most profound apologies to the people of this country, for what he has overseen is a national disgrace at a level I've never even contemplated as being possible in this country.

6. Because you should make no mistake about this… the acts committed here have cost more than trillions of dollars in lost wealth, but beyond the incomprehensible monetary cost, they have cost American lives. 

There are children who will grow up without their loving parent or parents because of our foreclosure crisis, senior citizens who have lost all faith in our nation in the last years of their lives… families that have suffered in muted agony for months turned years… and to have used American taxpayer dollars to intentionally exacerbate the effects of the crisis, is so appalling… so contemptible… so utterly vile…  that it truly is unspeakable.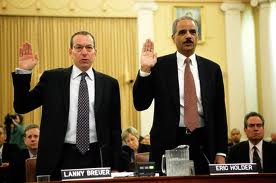 Eric Holder & Lanny Breuer
Further, U.S. Attorney General Eric Holder should also immediately RESIGN in DISGRACE…
That these unconscionable trades of securities and derivatives, whatever they are, had to be uncovered by an investigation ProPublica and NPR illustrates the, at best laughable, and at worst  corrupt nature of Attorney General Eric Holder and his Department of In-Justice.
Not only has Eric Holder failed to prosecute any of the banking industry executives responsible for our catastrophic economic collapse, but he hasn't even lifted a finger to do so, or even taken the time to tell the people of this country anything substantive about anything related to the crisis.
It should go with saying that he needs to be replaced, and perhaps this time we should not hire as our "top cop," a lawyer from Covington & Burling, one of Washington's biggest white shoe law firms, widely known to represent… WHILE HOLDER and BREUER WERE PARTNERS AT THE FIRM… some of the largest banks in the country, including Bank of America, JPMorgan Chase, CITIGROUP, WELLS FARGO BANK, MERS, one of the largest servicers, and yes… FREDDIE MAC too.
As reported by Huffington Post on January 19th…
"U.S. Attorney General Eric Holder and Lanny Breuer, head of the Justice Department's criminal division, were partners for years at a Washington law firm that represented a Who's Who of big banks and other companies at the center of alleged foreclosure fraud, a Reuters inquiry shows.

Covington represented Freddie Mac, one of the nation's biggest issuers of mortgage-backed securities, in enforcement investigations by federal financial regulators.

A particular concern by those pressing for an investigation is Covington's involvement with Virginia-based MERS Corp, which runs a vast computerized registry of mortgages. Little known before the mortgage crisis hit, MERS, which stands for Mortgage Electronic Registration Systems, has been at the center of complaints about false or erroneous mortgage documents.

Court records show that Covington, in the late 1990s, provided legal opinion letters needed to create MERS on behalf of Fannie Mae, Freddie Mac, Bank of America, JP Morgan Chase and several other large banks. It was meant to speed up registration and transfers of mortgages. By 2010, MERS claimed to own about half of all mortgages in the U.S. — roughly 60 million loans.

But evidence in numerous state and federal court cases around the country has shown that MERS authorized thousands of bank employees to sign their names as MERS officials. The banks allegedly drew up fake mortgage assignments, making it appear falsely that they had standing to file foreclosures, and then had their own employees sign the documents as MERS "vice presidents" or "assistant secretaries."
And get this…
"Covington declined to respond to questions from Reuters. A Covington spokeswoman said the firm had no comment."
Roger that. Â I understand perfectly. Â Let me see if I've got this straight…
President Obama announces Making Home Affordable Program.

Obama puts Treasury Secretary Geithner in charge of HAMP loan modification and HARP refinancing programs.

Geithner appoints Fannie Mae administrator and Freddie Mac regulator of MHA programs.

Obama puts Edward DeMarco in charge of FHFA.

FHFA is responsible for oversight of Fannie and Freddie.

Obama and Geithner say they want Fannie & Freddie to offer principal reductions to stem tide of defaults.

But DeMarco says no to principal reductions, claims it's because of "short-term accounting reasons."

In 2010, Obama nominates permanent replacement for DeMarco, but Republicans in Congress block nomination.

Charles Haldeman Jr. is in charge of Freddie Mac.

Late in 2010.Freddie starts making it much harder for homeowners to get out of high interest loans. 

For example, during Thanksgiving week 2010, Freddie increases post-settlement delivery fees charged to borrowers refinancing.

Also late in 2010, Freddie starts placing multi-billion dollar bets that pay off by keeping homeowners trapped in high interest loans.

These investments are called "inverse floaters." Instead of backed mainly by principal, these are banked by interest payments.

Because inverse floaters are riskier, they pay much higher rate of return, if people remain in higher interest rate loans.

Meanwhile, Sec. Geithner and President Obama continue to state publicly that they want loans refinanced and/or modified.

It's impossible  to believe that Obama, Geithner, DeMarco, and Haldeman haven't interacted over the last two years.

FHFA knew about Freddie's purchase of $3.4 billion in inverse floaters in 2010.

The Federal Reserve recently said Fannie and Freddie fees charged make it harder to refinance "difficult to justify."

And the U.S. Attorney General Eric Holder was a partner in the law firm representing Freddie Mac, along MERS and major banks.

Freddie and Fannie need another multi-billion bailout in 2011… and will need more in future.
Does that about cover it? Â Awesome.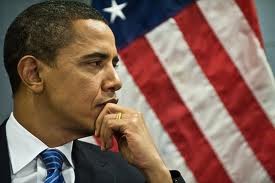 And President Obama…
If you haven't figured it out yet, and I think you have, you've hired the WRONG PEOPLE, or been given bad advice, because the way your administration has handled the financial and foreclosure crises is fast getting entirely out of anyone's control.  Today's crisis is very much like a tsunami in the middle of the ocean when it looks like a small bump on the water.  But it's approaching the shore and when it arrives it is likely to be 1,000 feet tall and moving at 600 miles per hour.
You are where the buck stops, and ultimately it is your administration that has allowed Freddie Mac to commit these horrific acts against America's distressed and vulnerable homeowners.  You are the one responsible for putting Covington and Burling lawyers in charge of the DOJ… you are the individual in which we placed our trust and you have let us down.
I wish I thought you were capable of redeeming yourself, but you can't… can you?  You're in too deep and can't see a way out.  You allowed Washington's powerbrokers and structure to take over your presidency and now you don't know how to change the path you're on… I can feel it.  I am truly sorry, as I've felt that way before in my life.
All I can say is that you are still the President of the United States and you can break what needs to be broken.  It's all about inches, like the journey of 1,000 miles beginning with one small step.
ONE LAST THING… A NOTE TO PROPUBLICA and NPR…
 
Thank you for your work on this.  Now, if you haven't already done so, would you mind sauntering on over to Fannie Mae to check out what's trading places over there.  I'm pretty sure I already know, but I don't want to say because frankly… I don't want to be right.
And after that… maybe check out what's trading at all the major banks… you know… just round up the usual suspects and that oughta' do it, don't you think?  Yeppers… I think you've just uncovered one of the reasons why it's been so damn hard to get a loan modification.
Because it seems to me that the odds are outstanding that… just like "robo-signing" wasn't… this ain't no "isolated incident."
Mandelman out.
ARE YOU A DOER, OR JUST A READER?
Please don't delay.  It's FREE, so DO it today  It's easy to DO.  And to win, we need you.
Becoming a DOER and committing to our code of action is easy. Just send an email to either one of us:
And also don't forget to subscribe here: SUBSCRIBE
All you have to write in the message is: Count on me to be a DOER.  Or,  just say: I'm in.  Tell me what to DO.
About once a week we'll call on you to DO something important… something that matters a lot.  
It feels really good to be a DOER, ask anyone who is.
Mandelman & Field… OUT!