St. Louis BBB Warns Homeowners: "Steer Clear of Mass Joinder Lawsuit Mailings"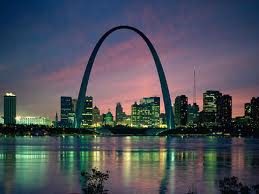 Okay, so I'm back from vacation and trying to stay abreast of what's going on with the Kramer & Kaslow mass joinder lawsuits, which are being tried by attorney Phillip Kramer whom I interviewed in late February after I received copies of mailings from homeowners soliciting participation in a lawsuit settlement that I found deceptive or misleading.
The return address on the mailer indicated that the law firm of Kramer & Kaslow had sent it, but Mr. Kramer clearly stated that he never authorized and had never before seen the mailing that I had received, and that in fact his firm had never marketed itself other that through its website, www.kramer-kaslow.com.
In Mr. Kramer's own words, as I included in my article:
As we discussed, I became aware of the mass mailing piece bearing my firm's name when I saw it on your website.  I immediately called the toll free number, was outraged to learn that the people handling the calls were falsely purporting to be with my firm, and I asked to speak with a supervisor.

I confirmed that the mailer was prepared by and sent by a law firm that I know.  The mailer was NOT approved by me.  I did NOT authorize the mailer.  I would NOT have authorized the mailer if I had been asked in advance.

My cases are progressing nicely, and I don't need to mass market every homeowner.  I'd rather organically grow my client base.

I'm not opposed to representing a large number of clients in my mass joinder cases.  In fact, that is the idea of delivering economy of scale to clients and being able to properly litigate against banks.  However, I am opposed to careless and aggressive marketing campaigns, and I never was asked, nor did I approve, that law firm to market under my name, and/or to pose as my law firm when speaking with prospective clients.

In fact, I have never marketed these mass joinder cases, I have not approved any marketing under my name, nor have I authorized anyone to pose as me or to solicit prospective clients under my name.  As I become aware of people doing these things, I confront them and shut them down.
I think it was maybe a week later that Phil Kramer sent out, I don't know how many letters to websites that were not authorized to market participation in his mass joinder lawsuit, demanding that they cease and desist immediately.  Additionally, Mr. Kramer also told me during the interview that he had not and would not approve of any outbound telemarketing, saying:  "I know of no outbound calling.  If asked, I would not approve of that.
Meet me in St. Louis…
Now, the St. Louis Better Business Bureau is warning homeowners to "steer clear" of similar mailings promoting participation in mass joinder lawsuits, said to be capable of forcing mortgage servicers to reduce loan payments.
The St. Louis BBB is reporting that several property owners in Boone County, Missouri, have recently received letters stating that their mortgages "may be eligible for national litigation aimed at fraudulent lender actions," but the letters did not include any company's name, nor did they include a return address.
The same identical notice, however, was received by a homeowner in Long Beach, California, and it showed that it was mailed from "Litigation Settlement Department at 3829 Veterans Memorial Parkway, St. Peters, Missouri."
According to records obtained from Missouri's Secretary of State, the St. Peters address belongs to two companies: Diversified Financial Protection Agency, which filed for incorporation on February 16, 2011, and Capital Debt Management, which filed in October 2009.  John Jacob Ehlinger is listed as president of Capital Debt Management.  He is also the only incorporator of Diversified Financial Protection Agency.
The St. Louis BBB issued two warnings about Mr. Ehlinger's Capital Debt Management company over the last year, in response to consumers complaining that they paid thousands of dollars to Capital Debt Management for assistance with their loan modifications, but received nothing in return.  The company's response has placed the blame on its partners in St. Louis and California that have failed to do the promised mortgage modification work.
A St. Louis BBB investigator paid a visit to the address on Veterans Memorial Parkway only to find Capital Debt Managements signage removed, and on the front door and in the lobby it now read: Diversified Financial Protection Agency.  Not surprisingly, the St. Louis BBB says that no one at either company is responding to requests for information.
Investigators have determined that Diversified Financial Protection Agency, Capital Debt Management, or both firms, are apparently now partners of Mass Litigation Alliance of Hawthorne, California, because both the Boon County and California solicitations direct homeowners to call the same toll-free phone number, which was also found listed on the Mass Litigation Alliance website.
The problem is that it's probably not listed there anymore, because the Mass Litigation Alliance website isn't there anymore either.  Here's what you'll find on the site's only page:
MASS LITIGATION ALLIANCE, PC

A Professional Law Corporation

PH: (424) 456-4080

My name is Matthew Davis, and I am the President of Mass Litigation Alliance, A Professional Law Corporation.  It has become clear to me in recent weeks that the role of Mass Litigation Alliance in mass joinder lawsuits has been widely exaggerated.  Mass Litigation Alliance is a law firm hired by attorney Philip Kramer, to facilitate intake consultations to prospective clients for mass joinder litigation. This role includes a consultation with an MLA staff attorney to ensure clients have an accurate and thorough understanding of the mass joinder litigation process in order to proceed forward with the lead litigation firm of Kramer and Kaslow PC.

Mr. Kramer is a veteran litigator and has filed a number of mass joinder lawsuits against major lenders.  Mass Litigation Alliance is not the firm retained by clients, and does not represent clients in litigation.  When Mass Litigation Alliance was asked to begin providing consultations, the clients had already signed retainers and paid fees to the lead litigating attorneys of Philip Kramer and Mitchell Stein. Since that time, MLA began facilitating consultations exclusively for Mr. Kramer.  Mass Litigation Alliance has never accepted client funds.

Consequently, Mass Litigation Alliance has never authorized any mailers or unsolicited marketing materials to be sent out.  If you have received anything in the mail indicating that it is from Mass Litigation Alliance, or individuals claiming to represent Mass Litigation Alliance, please fax it to my attention at (424) 456-4082 so I may pursue action against them.

Mass Litigation Alliance is not the only firm offering mass joinder litigation services. In fact, the California Department of Real Estate and a number of District Attorneys across the nation have issued warnings to consumers of scam operations making promises of extraordinary home mortgage relief.  Some may go so far as to promise the immediate stopping of foreclosure for prospective plaintiffs.  I know of no mass joinder cases that are in settlement talks. Therefore, if you are in receipt of any materials that claim settlement funds from your lender are available, or other similar mortgage or foreclosure relief is pending your response, please direct those unlawful solicitations to the authorities.

Mass joinder litigation is a complex legal decision a homeowner should consider only after carefully reviewing the materials authorized to describe the litigation cases. The cases filed by Mr. Kramer represent a legal action against various lenders arguing the fundamental security of the mortgage process. These cases are filed with the court and are all public record. The complaints are well written and outline the causes of action. I encourage current and potential clients to read through these thoroughly. A homeowner should take the time to read all qualified materials in determining if the decision to litigate is right for them.

As of March 31, 2011, contracts between Mass Litigation Alliance and Philip Kramer have expired. Therefore, MLA is not currently providing consultative services on behalf of Mr. Kramer's firm or participating in Kramer & Kaslow's mass joinder actions. Rest assured, the expiration of these contracts will not affect clients of Philip Kramer, or his litigation cases. I am confident the law firm of Kramer and Kaslow will continue to try the cases and take the fight to the major lenders and mortgage firms.  I have a high respect for Mr. Kramer and wish him great success in his litigation against the banks.
News to me, but good to know…
Now, to be clear, my understanding from speaking with Phil was that he had started Mass Litigation Alliance with attorney Matthew Davis to consolidate the process of accepting new clients under one roof in order to exercise tight controls, but that homeowners should only contact his firm's offices and speak with one of the firm's attorneys before writing anyone a check or signing any sort of retainer agreement.
Bottom-line: Be careful out there.
So, it does appear that there are still firms out there sending out mailers promoting Kramer's mass joinder lawsuit in very deceptive ways.  The mailer received by the homeowner in Long Beach, California, that was also received by the St. Louis BBB, for example, showed that it was mailed from the:
"Litigation Settlement Department at 3829 Veterans Memorial Parkway, St. Peters, Missouri."
And the use of the word "settlement" here is beyond inappropriate… in fact, it's a lie.
Phillip Kramer's mass litigation lawsuits, of which there appear to be six, are not even close to being "settlements," in fact the oldest three of his cases were filed in Los Angeles Superior Court on December 30, 2010… Nelson v. Wells Fargo, Marquette v. One West, and Wagner v. Citibank.  The three additional lawsuits that have been filed by Mr. Kramer are against defendants Bank of America, JPMorgan Chase and GMAC/Ally Bank, and they were filed in February, March and April of this year, respectively.
Last time I checked, "settlements" don't occur until a lawsuit is won or the defendant has settled, and I'm pretty sure it'll be some time before discovery begins or opening arguments are heard, let alone anyone starts talking settlement.  Whoever sent that mailer out is not to be trusted.
So, as I said in my first article interviewing Phillip Kramer:
So, if you want more information from Kramer and Kaslow about the "mass joinder" lawsuit, there's only one way to get it… from the source's mouth at Kramer & Kaslow.  And nowhere else, because no other marketing efforts have been approved, according to Mr. Kramer.

~~~
He knows the water best who has waded through it.
Danish Proverb
Coming Soon: A Mandelman Interview with Attorney Mitchell J. Stein
To get a better idea of what a homeowner might expect in terms of timeframes related to such lawsuits, I recently contacted prominent Los Angeles attorney, Mitchell J. Stein, who is the lawyer that filed the very first lawsuit… and on a pro bono basis by the way… on behalf of multiple homeowners as plaintiffs… against Bank of America/Countrywide in Los Angeles Superior Court, back on March 12, 2009.  (That's over two years ago, and Stein assures me that they're not talking settlement… yet.)
Stein's Curriculum Vitae (that's a resume that went to college) shows that he's successfully represented many of the world's largest companies in State and Federal Court over the last 25 years… but most importantly, his list includes something like 300 banks and financial institutions.
The Ronald v. Bank of America case is going forward, Bank of America's lawyers have demurred twice so Stein is on the third amended complaint at this point, which is by itself impressive to all of the attorneys I spoke with about the case.   A demur is like saying that you, the plaintiff, may be right in what you're saying, but you haven't presented a valid cause of action.  The judge can decide whether to let you amend your complaint after hearing the demur, or he can dismiss it without "leave to amend," in which case you're done as far as that cause of action is concerned.
So, having now read the transcripts from January 11, 2011, in LA. Superior Court, The Honorable Judge Highberger, speaking about the Ronald v. Bank of America complaint's causes of action and defendant's demurs, had the following to say:
"SO, WE'LL LEAVE TODAY WITH AN AWARENESS THAT SOME CAUSES OF ACTION ARE ALREADY GOOD TO GO AND OTHERS ARE GOING TO GET A CHANCE FOR LITTLE REHAB. I THINK THAT WE SHOULD ALLOW FURTHER DISCOVERY TO GO FORWARD, ALTHOUGH I WANT TO REGULATE DISCOVERY DISPUTES. SO I HOPE TO AVOID WORLD WAR III OF DISCOVERY."
Well, I'm not expert but that certainly sounds like a lawsuit moving forward to me.
Mitchell Stein's complaint in the Ronald v. Bank of America lawsuit has been used as the model for suits filed by Phillip Kramer and others.  I spoke with Mitch for several hours the other day and I can tell you he's a really smart guy who knows the intricacies of what the banks have done inside and out.  I know this because so am I, and so do I.  In fact, he taught me quite a bit, and I'm way past the point of learning from any armchair expert.
So, while I was on vacation, it seems that there's been all sorts of crap going on between a few of the other attorneys involved in the case and Mitch Stein.  In fact, I was nothing short of stunned to find out that they actually tried to have Stein removed from the case he filed two years ago.  It didn't work, however, and the homeowners that are plaintiffs in the case should be thanking their lucky stars for that.
Meanwhile, Stein filed a writ of mandamus about a month ago that, as I understand it, basically asks the Court of Appeals to set aside the Gomez decision and allow Judge Highberger to rule on a TRO motion that would stop Bank of America from foreclosing on plaintiffs in the Ronald suit, and he tells me that it looks good as far as the Appellate Court goes at this point.  In addition, a lawyer from Florida who is a well known fraud specialist and that Stein brought in to add muscle to the case has just yesterday been admitted pro hac vice by the court, which is also very good news.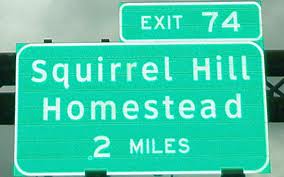 It's a small world after all…
So, want to hear the craziest thing… Mitchell Stein grew up in Squirrel Hill, which is in Pittsburgh, Pennsylvania.  Coincidentally, I grew up in Squirrel Hill, too.  Now, Pittsburgh is not a city one would describe as a small town, but Squirrel Hill is a predominately Jewish neighborhood… and when I say that I don't mean that everyone's running around with long beards and black coats, although there are a few of those running around… I mean Jewish neighborhood as in tree-lined streets, large homes, expensive cars, where kids wear designer clothes, take tennis lessons starting at age 6, vacation in Nantucket, and get dates to the prom based on their SAT scores.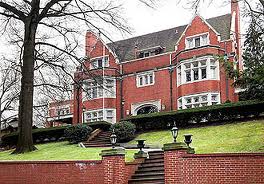 One of Squirrel Hill's many stately homes…
So, how do you like that… I knew Mitchell Stein back in high school… and I know his cousin Jeff, too.  In fact, the house I grew up in is a block from Jeffl's house.  Now, he didn't remember me right away, which is understandable because he's two years older than I am, and when you're in high school, sophomores know the seniors, but the seniors don't really know the sophomores.  But, I told Mitch a story that he couldn't help but laugh about…
You see, back in high school, Mitch Stein had a few friends that were kind of tough guys… you know, not bullies or anything like that, but they weren't the kind of guys who got picked on, let's say that.  And they were older than me, so if they were hanging out at Mineo's Pizza, my friends would probably just hang somewhere else.  But, I knew Mitch well enough to say hi, and even though some seniors that I knew wouldn't admit knowing me in public, he was always a cool enough guy that when I said hi to him, he always said hi back… like he acknowledged that he knew me even in front of his friends… so I could walk in and order pizza without any problem.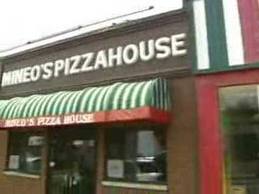 Hysterical?  Well, it was high school.  I also told him that I had told my parents that I had to have rugby shirts, because he used to wear this red and white stripe rugby shirt… and he replied: "Oh my God, I did used to wear a red and white stripe rugby shirt."  It was too funny.
I interviewed Mitchell Stein two days ago and I've been reading up on filings ever since, so look for my articles on Mitchell Stein, Ronald v. Bank of America, and how he plans to break the bank, pun intended… starting tomorrow.  He's an attorney who's going after the banks in the courts, and I'm a… well, whatever I am, I'm going after them my way.  Small world… damn straight.
Mandelman out.